Aviation technology program has growing pains
Nashua Community College says bigger facility needed to accommodate needs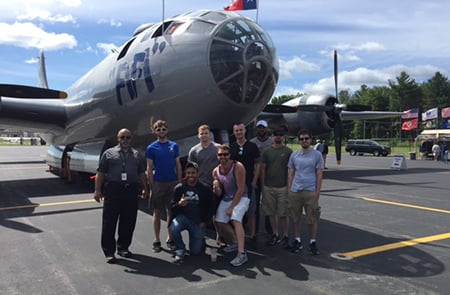 Officials at Nashua Community College say they need further support from the state in order to meet the demands of its growing aviation technology program.
The program is the only one in the region to graduate students with the certification they need to complete testing with the Federal Aviation Administration. Graduates go on to assume maintenance positions with large airlines and smaller companies that maintain planes for private use.
Officials said the "space-intensive" program is focused on hands-on learning, giving students the chance to complete all aspects of airplane maintenance on donated equipment.
In operation since 1991, the program can currently accommodate about 15 students at a time in its current space.
"Our students range in age from 18 to 35, with some just starting out and some changing careers" said Pat Geoffroy, a faculty member in the program who will take over as program coordinator on Aug. 15. "What they all have in common is a shared passion for ensuring that airplanes – from Cessnas to 747s – run as safely and as efficiently as possible."
To grow, Geoffrey said, the facilities will need to be enhanced, especially in light of the FAA's declaration that the current facility is too small for its present enrollment.
As a result, he said, the Community College System of NH has included a $2.5 million request as part of its capital budget request for the coming two years to expand and enhance the facility so it can increase space for more students and additional aviation equipment that can be incorporated into the learning and training experience.
"This is a very strong program for Nashua Community College. We do need to address our space challenges for the program to remain viable and to accommodate such strong demand as graduates enter the workforce. Our graduates are highly sought after as they fill a critical need to ensure aircrafts are properly maintained and safe," Geoffroy said.