Auto dealers Linda and Rich Lovering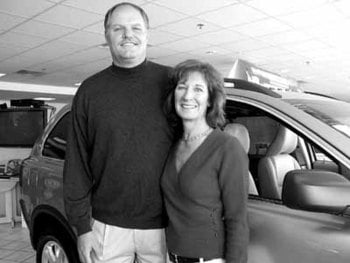 Rich and Linda Lovering, owners of Lovering Volvo of Concord, Nashua and Meredith, and Lovering Mitsubishi of Concord, met while they were both accountants at the then-Sanders Associates in Nashua.
After Sanders was acquired by Lockheed in the late 1980s, Linda came "back home" to the car business — her father owns Toyota of Nashua, originally a Volvo dealership. Rich joined her, leaving his calculator behind and learning the car business from the wheels up.
In 1996, they took over Capital City Volvo in Concord, then built up the Nashua dealership in 1998. Almost since the beginning, Lovering Volvo has been named among the top 10 percent of sales of Volvo dealerships in the country.
The Business Review caught up with the Loverings at their Nashua dealership to learn more about what drives the couple.
Q: When your business partner is your spouse, it can bring up a different set of challenges — you can't just walk away from each other at 5 p.m. How do you settle your business differences?
Rich Lovering: We don't have that many differences. We communicate very well. We talk about a lot of different things, and we respect each other's decision-making process. If she decides she's going to make a decision on something, she does it. Anything like capital improvements, we talk about that, because those kinds of things impact all the facilities. But from an operational standpoint, she runs the Nashua dealership.
The other nice thing about it is that neither one of us has a big ego.
Linda Lovering: We make the same decisions. I know what he's going to decide, and he usually knows what I'm going to decide on. It's really been easy.
What works out really well is if I have to go away, he can take over for everything, and when he goes away, I can handle things. That is great.
Q:What business strengths does the other person have that you each play off of?
LL: He's more laid back and I'm more Type A. I go in and see things that have to be done and start lining that up. There are certain things that he is better at, like the sales department. I'm the dynamo, I'm the one that gets every one going. I'm the pusher.
RL: She gives a different perspective because she's a woman, which is great. I love having a woman's perspective. In this business, 70 percent of our customers, the ones making the buying decisions, are women. Most of the people that come in for service are women. Think about it — Volvo. It's safety. It's a family car. She brings in that knowledge and it's very valuable. She's more detailed.
She handles all the health care, the employees, the human resources. Anything that takes a lot of time and a lot of research. I'll do the strategic stuff for the dealerships. I've been involved with buying the phone systems, computers, facilities. That's the kind of stuff I like to do.
LL: I like to deal with the people too. I'm really into customer service. That's huge. That's like our number one thing. We're very hands-on.
Q:I think a lot of people know you both through your commercials. Rich is always getting in trouble for something. Where do you get the ideas for your commercials?
LL: Dennis Finn is our marketing director. He was a radio man for WZID for 10 years.
The whole marketing thing came about when I said, "Dennis, we have to do the husband-and-wife thing, going against each other." The "doghouse" was the first one.
RL: He comes up with the bulk of the ideas. We'll throw a concept out there, and he'll surround it with the husband-and-wife thing. Usually, I'm on the losing end of it.
Q:Tell me about your Meredith dealership.
LL: It opened February 1. We'll only be selling Volvos there, unlike our Concord store, which also sells Mitsubishi.
The Meredith store is a spin-off of the Concord store because so many of our customers are up in the Lakes Region.
RL: You are limited to where you can put a dealership. Every franchise has territories assigned, called an "area of responsibility." There are no other Volvo dealers north of Concord to the Canadian border. There's one up 89 in Lebanon, but not on the whole 93 corridor. We've outgrown the Concord store, so we asked ourselves if we should really expand it or put another dealership in a good location.
If you look in the Lakes Region, there are not a lot of car dealers up there. We looked at our customer base and found that 25 percent of our customers live in that area.
LL: We're located right on the Daniel Webster Highway. We're right next to Hart's Turkey Farm and the Harley Davidson store. It's a nice town, too. The businesspeople have been so welcoming. The whole town.
Q:You both are involved in a number of charitable organizations.
LL: Community involvement is so important. Our employees have gotten involved in so many things. Kathy Feltus, our controller, is the chair of the Nashua Red Cross. The Nashua Pastoral Care Center is a big one. We help women with children get back on their feet again. We provide transitional housing and rental assistance. They commit to a two-year program. By the end of the two years, they become self-sufficient. I was president of the board of directors. They just do great work.
I find it really important to give back to the community.