'Artificial recharge' water system wins accolades in Durham
Innovative design directs surplus river water into aquifer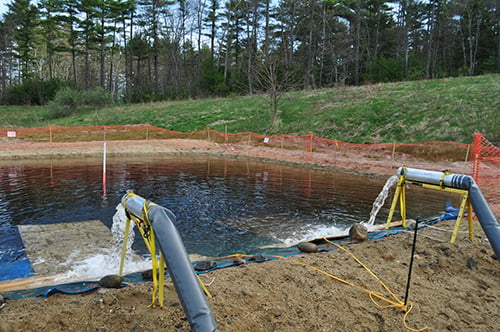 If this notoriously wet New Hampshire spring turns into a notoriously dry New Hampshire summer, officials if the town of Durham/University of New Hampshire Water System won't be worrying about having enough water when over 15,000 students return to school in late August.
That's because of an "artificial recharge system" designed and developed by team from Emery & Garrett Groundwater Investigations (EGGI), a division of GZA GeoEnvironmental Inc., and Underwood Engineers (UE) that has successfully tripled the maximum output of the system's key production well since its completion three years ago. It is the first system of its kind in New Hampshire and New England specifically focused on utilizing artificial recharge to supplement a new groundwater supply.
The Durham system captures surplus water from the Lamprey River when flows are running high, then uses an engineered system to funnel the water into the underground aquifer that feeds the Spruce Hole production well.
The innovative artificial recharge approach to supplementing groundwater resources has been honored by the New Hampshire Department of Environmental Services and has drawn interest from other New Hampshire and Massachusetts communities looking to ensure they can maximize drinking water output through periods of drought.
"Our challenge was to come up with a solution that would both protect the local environment, including wetlands, streams and fish habitat, while ensuring that the combined water system the town of Durham and UNH share would have plenty of water when the population more than doubles at the end of the summer," said James Emery, principal, district manager and senior hydrogeologist with EGGI. "You need to ensure there's adequate flow in the river all year-round to protect aquatic life, wetlands and neighboring wells while staying compliant with all the relevant state and federal regulations."
Increased output
EGGI developed and UE designed and administered the construction of two artificial recharge basins near the Spruce Hole production well into which Lamprey River water is pumped to when it is available. UE also designed the piping, pumping, instrumentation and control systems to allow the Durham/UNH operations staff to activate the system remotely and use it seamlessly with their existing facilities.
The system has successfully increased the maximum allowed output from the Durham/UNH production well from 288,000 gallons per day to 1,044,000 gallons per day, with no negative environmental impact. That has enabled Durham and UNH to avoid the costly process of developing additional wells (or other water sources) to ensure they have enough water.
According to April Talon, engineer for the town, the artificial recharge system essentially saved the day for the water system during the extreme drought of 2016 when no flow was available from the Oyster River intake and no water could be pumped from the Lamprey River due to the critical low flow conditions.
As a result, NHDES issued the project its 2017 Water Sustainability Award.
"We all grew up hearing smart advice about the importance of saving for a rainy day," Emery said. "You can think of the system that Durham and UNH installed as being all about saving from a rainy day. They're taking advantage of times the Lamprey River flows at high levels and banking that water for a time when the town and the university need it the most. We've been pleased to see how successfully it has worked and how the state has embraced the concept as a possible future solution to water challenges throughout New Hampshire."