Area runners will try to raise money for cures in Monday's Boston Marathon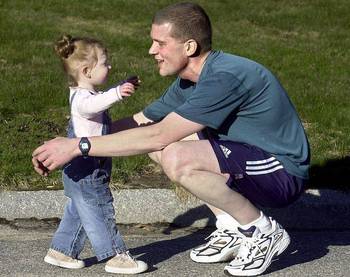 When firefighters get together for a cause, there is no stopping them. Shane Sewade, who works at the Lake Street Fire Station in Nashua, said after fellow firefighter Manny Pimental lost his wife to breast cancer last year, a lot of people wanted to do something to help.
Sewade decided what he could do is run in the 108th Boston Marathon on Monday as part of the Dana-Farber Marathon Challenge for cancer research. He is one of many local people who will be running the 26 miles, 385 yards from Hopkinton, Mass., to Copley Square for a cause.
Nashua firefighters have donated more than $1,000 toward the cause. In all, Sewade has raised more than $4,000. His goal is to reach $5,000, which is likely to happen because a silent donor has recently pledged to donate another $2,500.
Some of his fellow firefighters will be lining the marathon route Monday to cheer Sewade on during the race. One of the guys will be stationed at the 18th mile with orange wedges.
Sewade is running in Mary Ann Pimental's memory, as well as the memory of a good friend's husband, Leonard Vail, who died of lung cancer. He is also running for his mother-in-law, who recently beat cervical cancer.
Sewade has been training rigorously for the marathon, which he has run once before, five years ago. At the time, Sewade ran for the Muscular Dystrophy Association. He hasn't had time to train for another marathon in between.
"To prepare for the marathon is like a part-time job," Sewade said.
He has been training for the last eight months, running between 30 and 50 miles a week.
Colin McDevitt, also of Nashua, can attest to the amount of time and work it takes to train for a marathon. For the last few months, he has fit his running schedule in between working full-time for Fidelity Investments in Boston and attending graduate school at Boston College.
He will also be running for the Dana-Farber Marathon Challenge, as will Marjorie Morse of Nashua.
HOW TO HELP
McDevitt, who has raised about $3,000 of his $3,500 goal, did most of his training indoors on a treadmill because of the cold. He runs for about six or seven hours a week, and when he is not running indoors, he hits the roads either in south Nashua and Dunstable, Mass., or near the BC campus.
"It's definitely not easy to train in New England winters," McDevitt said.
This will be his second year running for Dana-Farber. Many of McDevitt's relatives have been affected by cancer, and some are battling it now.
In his teenage years, Andy Smolko of Hudson said he couldn't even run around the high school track.
Now he is running the marathon to raise money and awareness for the American Liver Foundation.
After 26 years of smoking cigarettes, Smolko kicked the habit about 3½ years ago and started to walk and run instead.
He has run three New York City Marathons. This will be his first marathon in Boston, and his first year running for an organized cause.
Smolko has several friends and a sister who suffer from various liver diseases. His younger sister was diagnosed with hepatitis C about seven years ago. She has undergone several treatments with the drug interferon, but the medication has not been effective. Smolko fears she will soon need a liver transplant.
His sister's doctors will soon decide whether her condition is serious enough to place her on the donor list for a new liver.
Smolko has raised more than $2,000 for the American Liver Foundation, but needs to raise at least $500 more to run as an official member of the 2004 Run for Research marathon team.
Xanoptics, the Merrimack company where Smolko works, has donated to the cause, as have the Residence Inn and Swan Chocolates in Merrimack. Smolko has raised the rest of the money through online donations and from co-workers, family and friends.
"I hope it all helps," he said.
Andrea Bushee can be reached at 594-5860 or busheea@telegraph-nh.com.