Area gets another wintry blast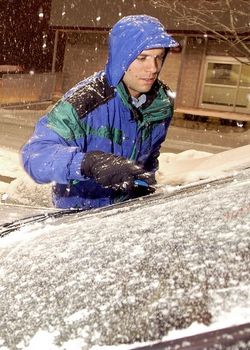 Don't expect any respite from the snow that started descending on the area late Sunday afternoon.
Today should be a nasty day for driving, predicted meteorologist Paul Dlrensife of AccuWeather.
An estimated 12 to 18 inches are expected to fall in the southern New Hampshire area. It began snowing at about 4 p.m. Sunday
The roads were still busy Sunday afternoon and shoppers at Market Basket in Hudson hustled to their cars as snow flakes swirled around them.
The heaviest snow was expected early this morning, Dlrensife said.
"It could mix with sleet," he said.There should be some blowing and drifting of snow throughout the day and snow showers later on.
"I wouldn't recommend traveling (today)," he said.
Some of the hardest hit areas in the storm were the Green and White mountains, central Maine, the Berkshires and Catskills. The White Mountains could get up to one to two feet of snow.
Nashua declared a snow emergency Sunday, prohibiting any on-street parking or parking in municipal lots.
A four-wheel-drive Land Rover went off the road on Route 3A in Tyngsborough, Mass. No one was hurt in the accident, according to state police.
More details were not available.
When asked by driving conditions, a state trooper juggling several calls replied "snow covered and slippery."
Traffic was heavy during the early part of the storm with people trying to get home from shopping and other errands, Hudson police Sgt. Bob Tousignant said.
Several cars slid off the road.
"The snow came so quickly, people couldn't see the shoulder of the road," Tousignant said.
Two cars went off the road in Derry on Hampstead Road and Route 111. No one was injured and tow trucks were called in to pull the cars back onto the road.
Nashua police estimated that there were about 12 accidents since the snow started.
"We did have a number of accidents . . . certainly not as many as the last storm," Sgt. Jeffrey Bukant said.