Area couple seeks return of children left behind in Congo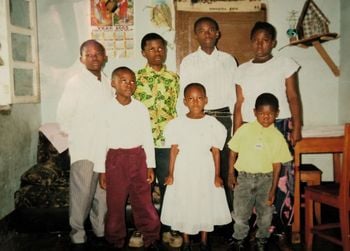 MANCHESTER – Several things immediately strike you about Hubert Simwerayi and his wife, Helene Muyumbu: How much they have been through, how much gratitude they express, and how deeply they wish to be reunited with their seven children.
The couple left their native Congo in October 2002 after winning a visa lottery to immigrate to the United States. Simwerayi, a human rights activist, feared for his life. Not long before the visa came through, soldiers invaded his home, ordered his wife and children beneath the beds, and then beat him and slashed him with a machete until he lost consciousness, he said.
When the chance came to leave, he and his wife did so, thinking they could come to America and quickly earn the plane fare it would take to retrieve their children, now ages 6 to 18.
They did not understand that the children's visas had to be used in a small window of time. When that window closed, the children were added to a five-year waiting list. After soldiers murdered their caretaker, the children fled to Uganda two weeks ago to stay with a family friend, Simwerayi said.
He and his wife went to U.S. Rep. Jeb Bradley's office Thursday with supporters to turn in a petition signed by almost 700 New Hampshire residents. The petition called for the situation to be expedited and for the children to be allowed to live in Manchester with their parents while their visa situation is resolved.
Bradley had good news waiting for them. His office, which had been working with federal officials on the issue, had just received word that the waiting period had been waived.
While the visas have yet to be issued, the children no longer have to wait five years before their situation is reviewed, Bradley said.
Next Steps
No one was sure how much longer it would take for the visa process to be complete, but hopes were high at Bradley's office that the situation would proceed quickly and the family would be reunited soon.
This is good news because "five years in that country, chances are that they could die," said Kelli Swazey, a University of New Hampshire student who has been working to bring attention to the family's situation for the past year.
"My heart is rejoicing," Muyumbu said in French when told of the news. Her words were translated by Sister Irene-Marie of the Sisters of the Presentation of Mary in Manchester.
Muyumbu, who turns 39 today, said seeing her children in the near future would be the best birthday gift she ever received.
The Manchester couple has had only sporadic communication with their children over the past 18 months. E-mail has been most reliable, as phone service is often spotty due to the military action in the area.
The couple's eldest daughter, now 18, is constantly on Muyumbu's mind. She is at risk of sexual assault, Muyumbu said, before breaking into tears.
None of her children attends school anymore. The two girls stay off the streets for fear that they may be raped. The boys fear being kidnapped by rebel soldiers and being enlisted in the army, she said.
The forcible enlistment of children by roaming bands of militia is a widespread problem in the area and has drawn the attention of human rights organizations for years. When the soldiers beat the 46-year-old Simwerayi, they did so because he had been urging local children to resist joining the militias, he said.
When Muyumbu thinks of everything her children have gone through, her "heart aches," she said.
The children are "constantly on my mind and I suffer for that," she said.
Even with the promise of their children being returned to them fresh in their hearts, the couple cannot forget the suffering of those back home. They talk of those dying of starvation or being murdered. They speak of the constant danger all the children are in.
The way Simwerayi sees it, his life was spared because God has more work for him to do. He sees God's hands in every situation and person who has helped his family along the way. Not only is he deeply grateful for that help, he intends to be of service to his country, and hopes to return someday.
For now, the couple lives in a humble apartment where the only decorations are religious pictures. They work different shifts at a factory, and send about half of their salaries home to support their children.
"Hubert and Helene speak out to let people know not just about their children, but the many children in the Congo and around the world who are in danger," said Nina Glick Schiller, a UNH professor who has been working to draw attention to the family's plight.
When asked what the couple will do when their children finally arrive, Simwerayi didn't hesitate.
"We will sit together and thank God," he said.
Both he and his wife also repeatedly expressed their gratitude to those who have been working together on their behalf.
In addition to Bradley's office and Schiller, that includes the McLane law firm of Manchester, which has worked on the case for free; the communities of St. Anne and St. Augustine parishes in Manchester; UNH's Committee on Race and Justice, which is headed by Swazey; the New Hampshire African Information Center, a Manchester-based nonprofit organization that helps African immigrants and refugees adapt to the United States; community activist Dudley Dudley; and Danny's Team, the nonprofit organization in Durham that funded the children's escape to Uganda.
Lynn Tryba can be reached at 594-6402 or trybal@telegraph-nh.com.