Apple to expand server assembly at former GTAT complex
Tech giant seeks free trade zone status for Arizona site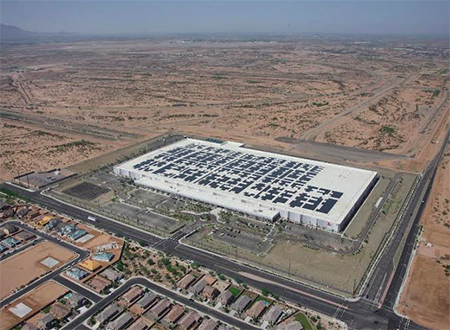 Apple Inc. has decided what it wants to do with the giant manufacturing complex in Arizona once leased by New Hampshire-based GT Advanced Technologies: assemble and configure servers for its four U.S. data centers.
The Arizona Republic newspaper reported the plans on Monday after reviewing documents in the Federal Register.
According to the newspaper, the city of Mesa, Ariz., applied for foreign trade zone status for the facility. The status would enable the company to produce devices and equipment in the United States at reduced costs.
"Production under foreign trade zone procedures could exempt Apple from customs duty payments," on a variety of materials and components that would be used in the server assembly, according to the regulatory filing.
Merrimack, NH-based GT Advanced Technologies, already had authority to operate in a foreign trade zone at the Mesa site, and Apple obtained that permission when it took ownership of the GTAT complex.
GTAT was a thriving publicly traded company before it signed a deal with Apple in October 2013 to manufacture sapphire for the technology giant's mobile devices. But the deal fell apart, leaving $1.3 billion in debt and filing for bankruptcy.
The reorganized company emerged from bankruptcy last March.
According to Business Insider, Apple previously assembled the servers at the data centers in Newark, Calif.; Prineville, Ore.; Maiden, N.C.; and Reno, Nev.