Anti-gambling activist Jim Rubens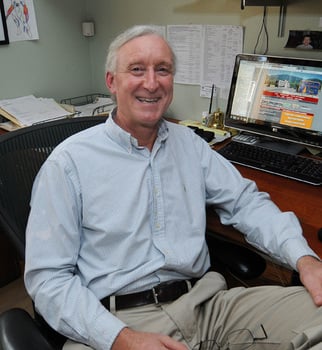 In the days and weeks leading up to the expected January vote by the New Hampshire House on the latest expanded gaming proposal, former Republican state Sen. Jim Rubens, chair of the Granite State Coalition Against Expanded Gambling, says he will do his best to educate lawmakers on the pitfalls of bringing casinos and slot machines into the state.
"It's been David against Goliath," said Rubens, who joined the coalition in 2002. "I do this for the love and admiration I have for this state."
He says that pro-gambling interests have likely "spent millions" in lobbying efforts while the coalition, one of the few truly bipartisan groups in the state, "has been run on a shoestring budget."
Rubens says House Bill 593 is the latest step in a struggle stretching back more than two decades. Expanded gambling advocates say that the slot machines and casinos could provide economic development and a consistent revenue source for the state. But Rubens says the coalition has succeeded so far because "we have the facts on our side" and the struggle is about preserving New Hampshire's quality of life advantage.
Q. What does the coalition believe is at stake in the expanded gaming debate?
A. This is a family-friendly state with an exceptionally strong brand image. Entrepreneurs, business activity, wealth and jobs come here because of brand image in this state and tourists will not come to this state to gamble.
We have a state government that is quite free of serious corruption, and that will not be the case if we get into bed with the gambling industry. Another major concern is that the promises made by the gambling industry never come true and once states start down the path of expanded gambling, they can't go back and sometimes end up subsidizing the very industry that was supposed to provide so much economic benefit.
Just look at the case of West Virginia, which is handing out $100 million in subsidies over 10 years to help its casinos remain competitive in a region that is gambling-saturated. Look at Maine, which has found that the casino in Bangor did not become a destination spot and has not been a promised revenue generator for the state budget. Slots are the most addictive devices, and I don't want to see the state sanction what is essentially a predatory tax.
Q. Isn't there a strong economic development case to be made for expanded gaming?
A. No, because it's built on false promises and unrealistic revenue projections. Even the lobbyists who wrote the amended version (of HB 593) don't believe it, because there is no minimum casino investment requirement. There will be some temporary construction jobs created, but there will be no new jobs created because we won't have destination casinos like the ones being planned for Massachusetts.
Discretionary spending money will be taken out of the local economy and into the pockets of out-of-state casino companies. Every study shows that this will cannibalize local businesses, especially in the hospitality industry. One state analysis shows that for every $1 million in gambling taken out of the local economy, more than nine jobs are lost.
Q. Do you believe that HB 593 will pass?
A. This coming year is a significant test. No one predicts a bill will pass and Governor Lynch has promised a veto even if it does, and the votes won't be there for an override. But the gambling industry doesn't give up, and we expect a fully intensive fight next year. This bill has the foul odor of a rotten giveaway. We've been outspent and out-lobbied, but we win because of the facts.
Q. How do you respond to the argument that people already gamble and if so, why not keep that money in the state?
A. It's true that people travel to Connecticut casinos, play the lottery and do charity poker games. But the majority of the revenue will not stay in the state.
Our point is that we will have convenience casinos that will be used mostly by local residents and not out-of-state travelers. Video slots are different, highly addictive. Studies have shown problem gambling impacts more than the gambler, and there are serious costs to families whose income is gambled away. This form of gambling is knowingly designed to ruin people's lives, and no other tax or form of revenue has that feature.
There will be serious social and increased crime costs, and those are facts that gambling advocates always downplay. It will do nothing but degrade the quality of life advantage we have in New Hampshire and actually hurt the state's economy.