Annual preview: It's the workforce, stupid
Labor shortage is cramping N.H.'s economy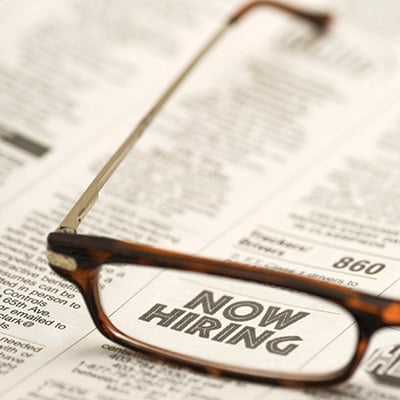 Unlimited vacation time. Bean bag chairs. A chef coming in every week. Those are some of the things Vital Designs in Portsmouth does to keep and attract employees.
"It's tough to find great people these days," said Zachary Gregg, CEO and founder of Vital, a disruptive digital marketing firm in Portsmouth. "You have to be creative. You have to really reconsider what you offer an employee."
Twenty years ago, indeed four years ago, the unspoken slogan during the election, was, "It's the economy, stupid."
But in this election cycle, it's not that stupid to reconsider. As economist Russ Thibeault, head of Applied Economic Research in Laconia, put it: "The economy rises to the top of the political agenda when the economy sucks, and it doesn't suck right now."
This time around, it's not jobs, jobs, jobs. It's wages and benefits. In other words, it's the workforce, stupid.
In New Hampshire, employers are faced with the question: What will it take to attract workers and keep them when the unemployment rate is 3.2 percent?
That rate in November may be great for people looking for work, "but it isn't healthy for employers," Thibeault, said. "Do we have enough labor to feed the needs of our employers?"
The economy certainly doesn't suck. How could it when state business tax revenues increased by 20 percent and home sales are up by double digits? Bankruptcies in New Hampshire are at their lowest level in a quarter-century. Foreclosures are at their lowest level since the 2006 housing boom. The Federal Reserve thinks it's OK to raise interest rates.
In other words, it's time for workers to dust off their resumes and see what employers can offer them.
Labor
So what is the solution for employers? Creative benefits like those described above? Higher wages? Or maybe simply turning to technology instead and becoming more efficient with the workers you have.
"It's awful," said Richard Grosky, CEO of Tech NH Inc. in Merrimack, who has opted for the latter method by installing high-end inspection system "that doesn't take coffee breaks." This allows him to shift employees from more mind-numbing tasks to more creative ones.
"Just to add an engineer almost took a year," said Grosky.
Employers may have become a bit "spoiled" by the recession and slow recovery, said Anita Josten, research analyst with the state Economic and Labor Market Information Bureau.
During the recession, "they could ask for anything they wanted ideally and they got accustomed to that. Now the market doesn't support that."
But not everything is hunky-dory. New Hampshire exports are down 3.2 percent (though nationally the drop was twice that), thanks to the strong dollar and a weak international economy. Housing permits are still flat. And some have noticed a bit of a slowdown over the last few months.
On the whole, economic improvement, and the accompanying labor shortage, seems to be across the board.
What is unusual about the unemployment rate is that it is so uniform.
In November, only a percentage point separated the county with the highest unemployment rate (Coos, at 3.6 percent) and lowest (Sullivan, at 2.5 percent).
"Every attraction had a record year," said Jayne O'Conner, president of White Mountain Attractions in Conway. "People were traveling and happy. It was the comfortable feeling that people have when the economy is moving forward — finally."
Even this year, with the delay in snow, people are out and in about, she said. "It used to be absolutely quiet between Columbus Day and Christmas, but the shoulder seasons have gotten shorter."
Real Estate
More jobs are coming to the North Country – some 300 from a new hotel in Lincoln, and then there is the massive renovation and expansion of the Balsams in Dixville.
The problem is where to find the employees, even in the North Country, especially if the current political climates makes it more difficult to import foreign workers. And where to house them? With so much protected forest, the opportunities to build workforce housing are slim.
There were 11 percent fewer homes on the market in November compared to a year earlier. There's a 7.7-month supply of homes on the market, down two months compared to last year. Year-to-date, single-family home sales are up 11.3 percent from a year ago, and volume is up 16 percent.
"A lot of folks affected by the previous market are able to obtain financing again," said Margherita "Maggie" Verani, president of Verani Realty in Bedford.
Some Bedford homes are now selling for more than $500,000. The Seacoast is hot and lakefront homes are moving again.
"Listings are down," she said. "If a listing comes on it goes really quickly, regardless of the price."
As of November, however, prices have risen 5.3 percent year-to-date. How long is that going to last?
When Rachel Eames, a Concord broker and president-elect of the NH Association of Realtors, put a two-bedroom ranch on the Manchester market in early December, she had multiple offers in two days. The home was under contract in four days, at $3,000 more than the asking price.
She said there is a lot of pent-up demand from millennial renters looking for their first home, from young families wanting to trade up for a slightly larger home and from retirees looking to downsize.
Construction
Eames heard that new housing developments are in the works. That's what Kendall Buck, executive vice president of the NH Home Builders Association, has heard too.
"Members have been busier than they have been for some time, but when you look at the housing permits, they are tepid at best."
One thing that might be holding the industry back? A shortage of labor. "Masons, contractors tell me they are having a hard time finding skilled labor, or any labor – anybody that wants to work," said Buck.
Homebuilders aren't the only contractors that need labor. Thanks to the passage of the federal highway bill, the gas tax, and the timing of the Interstate 93 construction, highway spending is going to jump from $180 million to more than $300 million, almost as much as federal stimulus levels, reported Gary Abbott, executive vice president at Associated General Contractors of NH.
"There is definitely a labor shortage. A lot of segments lost employees during the recession, so it's going to be a challenge to get those numbers back up," Abbott said
Commercial construction is reviving too. A shortage of rental units has spiked an interest in large multifamily dwellings, said Chris Norwood president of Bedford-based NAI Norwood Group.
Once shunned after the collapse of the housing bubble in the '90s, such investments are now considered low-risk. So are single investment tenants, like a Walgreens, and that's spilling over, even to strip malls.
"But there is a lack of product out there," Norwood said, particularly in Portsmouth, which is "a world to its own with all the construction going on."
Then there's Daniel Webster Highway in South Nashua, which he said is "exploding," and there is a building boom around Manchester-Boston Regional Airport – the number two freight airport in New England, Norwood pointed out.
Manufacturing
Contractors are trying to bet that young people will become more interested in the trades, but they face competition from other sectors of the economy.
The state's manufacturing sector, which lost thousands of jobs during the recession, actually added about 600 jobs last year, and perhaps would add more, if there were enough folks to hire.
"I haven't heard any manufacturer say that business is bad. It's either the same or getting better and they need more employees," said Zenagui Brahim, president of the NH Manufacturing Extension Partnership. "We talk about it [the labor shortage] every day," he said.
To stoke interest in manufacturing jobs, over the last few years NHMEP has been holding tours of factories for high school students, upping the number of visitors from 1,100 last year to 1,641 this year.
Every company has its own way of attracting workers. For Vital Design, it's cool benefits. Cirtronics Corp. in Milford, which added about 60 workers last year to increase its workforce to 175, credits its reputation as a more democratic workplace.
But in the end, employers may just have to "pony up" on wages to get enough workers, said Thibeault.
This is starting to happen. When it comes to manufacturing wages, the average crossed $20 an hour in 2015, after hovering at about $18 to $19 hour since the beginning of the decade. And in general personal income in New Hampshire has been growing over the last few years after coming to a near halt.
Thibeault said an increase in wages may not be such a bad thing for the economy. Coupled with declining oil prices, it means people have a little more money in their pocket to spend.
Hospitality and retail
Restaurants and hotels and retail stores appreciate the potential for more discretionary spending.
Convenience stores see the effects more closely, because as gas prices drop, "that's more gas sales at the pump, more trips to the store," said John Dumais, president of the NH Grocers Association.
Before Thanksgiving, the state's Retail Merchants Association estimated a 4.2 percent increase in holiday spending in New Hampshire. While it's too early to tell, the Mall at Rockingham Park in Salem said that it had a "really strong Thanksgiving," thanks to the blue laws in Massachusetts as well as many of the renovations at the mall, reported general manager Cindy Hall.
And while the pre-Christmas warm spell certainly hasn't encouraged the sale of mittens and shovels, it has made shopping easier, as evidenced by the fact that the Rockingham Mall had to reroute traffic to handle the rush.
David Bellman, owner and founder of Bellman Jewelers in Manchester, said he thought a little snow would have helped shoppers get into the spending spirit earlier, "overall business has been very good. It's more consistent. People are feeling upbeat."
After all, he added, with people paying a third less for heating oil, "you can buy a couple of nice diamonds for what it cost to heat some of their big homes."
The mild weather is also good for dining out, said Tom Boucher, owner of Great NH Restaurants, who estimates a 3 percent increase in sales over 2014.
"They aren't afraid to go out," he said. Even more reassuring is the 15 percent increase he's seen in gift certificate sales. "It shows how confident people are," he said.
Boucher – whose company owns T-Bones, Cactus Jack's and the Copper Door restaurants – is opening up a new catering business and is looking to open two more restaurants in southern New Hampshire. But he isn't too worried about finding employees. He said his turnover is a lot lower than at other restaurants.
"Mainly we just run a good operation that makes their jobs easier," he said. "They know what to do and are treated with respect."
One problem plaguing the workforce, particularly in the restaurant industry, is the growing heroin epidemic, reported Priscilla Lane-Rondeau, owner of 900 Degrees in Manchester and Epping. "There are so many people abusing. It's tough. We have been lucky to avoid most of that."
But mainly, the company has been dealing with increased business by simply working harder. "We only have so much space. We just flip a table another time," she said.
Energy
The low price of oil and lack of cold, however, does slow down the clean tech sector – particularly wood chip furnaces – said Kate Epsen, president of the NH Clean Tech Council, but the volatility of oil is a selling point as well.
"At this point, the trend is irreversible" toward growth in the clean tech sector, she said, particularly for solar, where price have come down and some major national players – Solar City and SunRay Solar – have entered the state.
There is a bit of an energy rush going on now because of the sun setting on some federal tax credits, but some creative financing has also helped fuel a boom of municipal projects, said Epsen.
Bob Sanders can be reached at bsanders@nhbr.com.