Anna Johnson of Jabra-GN Netcom
2014 Financial Executive of the Year winner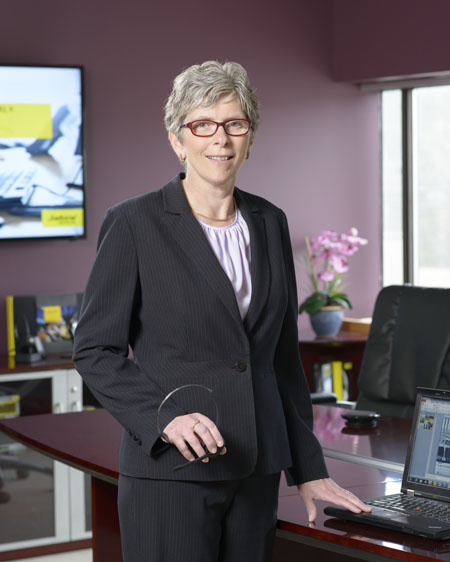 It would be an understatement to say that Anna Johnson had a busy 2013.
Johnson is the director of finance for Jabra-GN Netcom, a global manufacturer of headsets and speakerphones for business, mobile, home, sports and music applications.
In late 2012, she was told that GN Netcom was looking to divest a large portion of the organization.
Johnson led and managed the very difficult divestiture, acting as the go-to person who analyzed all aspects of the two companies to figure out how to separate their balance sheets and operations to meet the terms of the agreement.
She worked closely with the corporate office to review balance sheets and provide all the data that was necessary to separate the two companies. This meant supporting the negotiation team not just in North America, but also in Copenhagen, where GN Netcom's parent company has its global headquarters.
Because GN Netcom's finance team supported the financial activities for both companies, the divestiture had a particular impact on that division. Some employees worked for both companies, so after the divestiture, Johnson had to rebuild her team and strategically reassign employees to fill the roles where they could excel.
This also required developing new reporting and financial solutions without adding new resources.
Johnson managed the change with grace. In fact, while the detailed and demanding divestiture was taking place, she still led the closing for the year and successfully completed its year-end audit with no comments or findings.
And in 2012 through 2013, the company had its highest growth in five years, thanks in large part to Anna's financial management skills.
Her nominator, David Copeland, the North American director of human resources for GN Netcom, wrote that "during what could have been disastrous change management approach … (Johnson) was able to keep her team focused, as well as assist the new acquiring organization to ensure the divestiture did not negatively impact the business, morale of her remaining employees, our cost structure, and most importantly the dignity of those employees that were transitioned out of our company into the new organization."
Copeland added that people at all levels and departments of the company look to Johnson for guidance and advice.
Before she joined GN Netcom, Johnson worked for nearly 14 years in finance for Raytheon Company after starting her career in internal auditing for a bank.
In her free time, Johnson is an avid hiker and member of the Appalachian Mountain Club. She enjoys hiking in the White Mountains, and contributing to trail maintenance so everybody can enjoy the same trails she loves. She lives in Brookline with her husband, son and dog.
Q. What has been your proudest accomplishment during your career?
A. Working through the divestment last year and managing through that was a great accomplishment. And at the tail end of that, we also were in the midst of going on to a brand-new ERP (enterprise resource planning) system, so managing the team through those changes within a month – and succeeding at the change in the team's assignments – was very satisfying.
Q. What have been some of the biggest professional challenges you've faced in your career?
A. For me, the most challenging events are those that are related to staffing reductions or restructuring that take place. I was promoted in 2007 to the director of finance, and soon after that, we were asked to look at improving our profitability, and part of that was a restructuring event that did impact the finance team. The planning of those types of events and managing the change with the team has probably been the most challenging activity in my career, but it was also a great learning experience, because we need to look at all of these changes as an opportunity to help my team improve processes and develop and support the business through all the changes.
Q. What are your hobbies and personal interests?
A. Over the years, up through high school, my son played basketball and lacrosse, so my husband and I attended all of his games, and he also played lacrosse in college, and we were able to attend those games as well. Now that we have more free time, we have started to travel to the White Mountains more frequently. We really enjoy hiking, and in the winter we've taken up snowshoeing. I walk every day with my lab too.
Q. What are some of the challenges and opportunities that you see on the horizon for Jabra?
A. We are expected to grow in the future, and of course with growth we want to make sure that our systems can support the growth. To do that, we've reviewed our processes to support the business and we have refreshed our reports, that we are adding value to what we are supporting the business with.