Anatomy of a move: How 75 jobs were brought to N.H.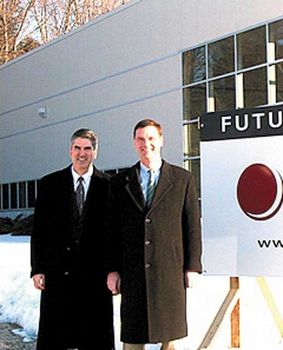 A relationship that began more than six years ago has wound up bringing Vermont-based Janos Technology Inc., and 75 jobs, to New Hampshire.
Janos — a maker of advanced infrared optical components and assemblies — decided on moving to the Black Brook Corporate Park in Keene, thanks to an effort coordinated by the state Office of Business and Industrial Development.
From the beginning, State Industrial Representative Michael Bergeron said he knew that New Hampshire was the right state for Janos, but the company took convincing and time.
On a daily basis, Bergeron and his partner John DiNapoli make a number of cold calls to prospective clients to outline New Hampshire's business advantages. Bergeron made one such call on Jan. 6, 1998, to Bruce Gardner, then president of Janos. The company was faced with a number of issues that Bergeron realized New Hampshire could alleviate, and a meeting was set for Jan. 14.
At the meeting, Bergeron said he outlined what New Hampshire could offer the company; more importantly, Gardner explained how he had recently lost three skilled employees because they lived in Keene and no longer wanted to commute to Vermont. Gardner explained that training and maintaining a skilled work force was his company's biggest issue, which made, he felt, the possibility for future growth tenuous in Vermont.
After analyzing the situation, Bergeron provided Gardner with a binder of information outlining the benefits of New Hampshire's business climate and available real estate options in the Keene area.
Bergeron made follow-up telephone calls to Gardner throughout 1998 and into 1999, and he also mailed a Christmas card. But with minimal response, he assumed that interest had dwindled. However, Irwin Lampron, a Janos employee, met with DiNapoli and Gordon Tuttel of Public Service of New Hampshire at the Eastec Trade Show in Springfield, Mass., on May 26, 1999, at which time Lampron explained that the owners had decided not to expand and instead were looking to sell the company. With this new information from DiNapoli, Bergeron supplied Janos with a revised binder of facts and figures about New Hampshire — including updated utility rate information from PSNH — and he remained in touch with Janos over the next several years.
In 2003, Janos was sold to the Monroe Group of Chicago. Bruce Gardner became Janos' vice president of technology, and Brett Rosner was hired as the new president. During this time, Janos contacted Jack Dugan and Doug Brown of the Monadnock Economic Development Corp., which provided the company with information on several buildings in Keene.
In September 2003, Gardner was assigned the task of evaluating new facilities for company relocation and eventual expansion in either Vermont or New Hampshire. During the research process, Rosner worked with many state contacts, including N.H. Sen. Tom Eaton, former Keene Mayor Pat Russell and George Foskett of The Masiello Group realty firm.
In October, Gardner contacted Stuart Arnett, director of the state Division of Economic Development, who immediately called on Bergeron to set up a meeting with Janos.
The meeting, held Nov. 14, 2003 at the Janos facility in Townshend, Vt., was attended by Monroe Group decision-makers President Phil Haag and Vice President of Corporate Development Bryan Torcivia, along with Rosner and Gardner. Representing New Hampshire were Eaton, Department of Resources and Economic Development Commissioner George Bald, Keene Mayor Michael Blastos, Ward 1 City Councilor Chuck Redfern, Keene City Manager John MacLean, Dugan and Bergeron.
The focus of the meeting was a presentation by Bergeron and the New Hampshire team on the benefits of Janos relocating to the Granite State. From mid-October until the meeting, Bergeron worked to convene many of the New Hampshire team members Janos had worked with as well as to develop a presentation specifically outlining New Hampshire's benefits to Janos.
"We are very fortunate to work with the people at the state, and we have a great relationship with them," said Jack Dugan, president of the Monadnock Economic Development Corp. "Michael Bergeron is a great asset, and George Bald has always been there for us."
Follow-up work after the Nov. 14 meeting went through November and December. The Monroe Group sought clarification on S corporation status in New Hampshire and the tax impact on Illinois residents. Arnett and Bergeron contacted Revenue Commissioner Phil Blastos, who suggested the company consider obtaining a Community Reinvestment and Opportunity — or CROP — zone tax credit, which is used as a credit against the state's business profits tax.
Calling on all available resources, Commissioner Bald contacted Doug Porter at the governor's office, and Governor Benson made a personal call to Haag expressing New Hampshire's strong interest in Janos.
By December Janos had narrowed its New Hampshire focus to a 36,000-square-foot facility in Keene owned by the Monadnock Economic Development Corp, and the company worked with Dugan on real estate terms.
In order to provide additional tax benefit recommendations to Janos, the New Hampshire Business Finance Authority was contacted and offered legal counsel through Bill Ardinger of the Concord law firm of Rath, Young and Pignatelli.
After more than six years of work by the New Hampshire team, Dugan, Bergeron, Bald and Benson received calls from Rosner announcing that Janos and Monroe had selected Keene as their new home, with occupancy scheduled for the second half of 2004.
"After more than 30 years of production at our current location, our commitment to growth and customer service has brought forth this much-needed move to a larger facility," Rosner said. "We are confident that Keene will provide a stimulating business climate that will infuse further growth into our company."
The new state-of-the-art facility will allow Janos to reach a higher technological level by providing streamlined manufacturing and production efficiencies. The existing square footage will allow for additional employees to be added as well as a possible expansion to 50,000 square feet.
"The Janos project is a great example of a large number of New Hampshire officials working together as a team to benefit a company and our state," said Bergeron. "It sometimes takes several years and a lot of hard work from a number of people, but in the end, working as a coordinated team is what makes all the difference." nhbr
This article was provided by the state Office of Business and Industrial Development.