An inauguration for Spartans to remember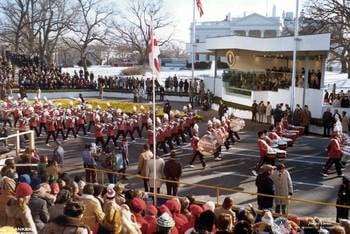 NASHUA – For several months now, Peter LaFlamme and his staff have been busy cooking up the perfect buffet of events to make 2005 – the 50th anniversary year for their Spartans Drum and Bugle Corps – one to remember.
But it wasn't until last Friday that the sweetest ingredient of all arrived.
It came in the form of a telephone call from Washington, which LaFlamme answered in his office at Spartans Hall.
"Take a deep breath now . . . the Spartans are going!" LaFlamme heard U.S. Army Maj. Bob Powers announce in his ear.
That meant that for the fifth time in the group's 50 years, the Spartans have been chosen to represent New Hampshire in the presidential inaugural organizations of its type even once.
In a bit of a deja vu, the Spartans will again march in honor of President George W. Bush. The group also was chosen to represent New Hampshire for Bush's first inaugural parade, a rainy affair in January 2001.
"This is a great honor for us, certainly a fabulous opportunity for the kids who are going," LaFlamme said Monday. "They're making history . . . it's a once-in-a-lifetime chance."
Although the plate of Spartans management will be incredibly full for the next five weeks, LaFlamme said he wouldn't trade the honor for anything.
"It's a huge workload, but a happy workload," said LaFlamme, the executive director of the group.
It's unclear exactly how many musicians will be making the trip, but LaFlamme said he hopes to outfit for duty as many of the corps' newest recruits, including those who attended the Spartans' recent open house, as possible. That should mean roughly 150, "hopefully more," he said. The pare-down process begins Sunday.
"Our membership has been growing and growing, and that means more uniforms and more instruments," he said. "But because we pride ourselves on being an educational group, I'm going to try to bring a lot of kids, even those who may not make the corps next year."
With delivery of the official itinerary expected today, LaFlamme said he's confident his staff will be able to meet the necessary logistical maneuvering for a smooth trip. But there's one wild card in the equation – funding.
"We're looking for sponsors starting right now," he said. "Ten bucks or a thousand, everything is a big help."
LaFlamme estimates the event will cost around $50,000.
"It was $35,000 four years ago, and everything's gone up – gas has doubled, insurance has tripled," he said.
LaFlamme said several fund-raising ideas are already in the works. "We might put together a tour package for parents and friends that would include transportation and bleacher seats for the parade," he said.
The Spartans' first inaugural parade appearance was in January 1977 for Jimmy Carter, the little-known Georgia governor who beat incumbent Gerald Ford in the 1976 election.
LaFlamme's father, Albert "Berdie" LaFlamme, founded the Spartans in 1955. He remembers well that first inaugural trip.
"(Meldrim) Thomson was governor, and we were in Florida for the Orange Bowl parade," the senior LaFlamme said. "He called down there and asked if we'd do (the inaugural parade) and I said, 'We can't do that, we're broke,'" he said, laughing.
"Thomson said, 'Never mind about that, just tell me you can make it, we'll take care of the rest,' " he added.
The Spartans' other inaugural invitations were for President Reagan's second term in 1985 and George H. W. Bush's parade in 1989.
The senior LaFlamme has an extra inaugural parade under his belt, however – as co-director of the Salem High School band for the first Reagan term in 1981.
"Reagan was up in Salem campaigning, and some of the kids in the band got together and played for him," LaFlamme said. "Afterward, he remarked that if he makes it, he'd invite them to Washington."
With plenty of witnesses hearing that promise, LaFlamme said, Reagan and his handlers dared not change their minds come inauguration time. "Dan Rather even called me, asking me if Reagan had broken his promise," he added with a laugh.
So Salem High – this time with a much larger contingent of 250, including LaFlamme – got its place in history.
"It's a great thing to be involved with," he said. "It really is a beautiful parade."