An educational experience with Fred Bramante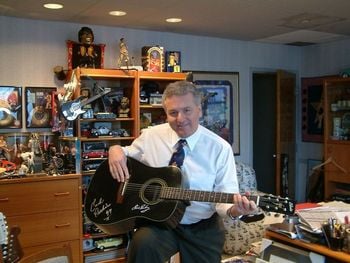 Fred Bramante, founder and owner of Daddy's Junky Music Stores, served on the state Board of Education from 1992 to 1996 and ran four times for governor of New Hampshire. A native of Medford, Mass., he was a schoolteacher in Stamford, Conn., before entering the music business full time. Nominated last year by Gov. Craig Benson and confirmed by the Executive Council, he has returned to the state school board as chairman, touring the state to speak at public forums about changes in the state's minimum standards for local school districts. The current standards are due to expire this fall.
Q: Apart from the funding issue, what do you think is the biggest challenge facing public education in New Hampshire?
A: I think the first challenge is to get kids energized in learning. You hear too often the word "boring" associated with school. It certainly was part of my schooling. I thought I wasn't smart enough. I didn't realize there were skills that I had and a passion for rock 'n' roll music that I could turn into a job. A lot of kids are in the same position I was in. They're never told that there is a potential path to your piece of the American dream by doing what you love.
Schools are working harder than they ever did in the past to try to bring that out, but I think they're still trying to do it within the traditional classroom model. And that's really hard to do.
Q: What would you like to see as alternatives to the traditional classroom?
A: I think the question is, what do we want the schools to be? We have to decide if we care whether the school is the first-hand deliverer of the educational service, or do we care more that the students learn the desired skills and lessons, regardless of where they learn them?
Q: How is that accomplished?
A: I can give you examples of things going on in the state right now. In Claremont, you can get credit for enrolling in the Jenkins School of Dance. You can get automotive credit by interning at the race track in Epping. You can get music credits for interning at the radio station in Conway. Those options should be there for all kids, so they can choose to get part of their schooling in a traditional classroom setting and part of it outside the school.
Q: How would the schools determine what students are learning at all these different places?
A: The teacher should be able to have control and oversight, making sure that if a student says I want to get my music credit by playing in a rock band, (the teacher says), "OK let's talk about it and let's put a plan together that's going to be satisfactory to you and to me." The teacher has the responsibility to maintain high standards and to ensure the quality of the experience.
Q: Who pays for these outside courses?
A: I think if it's the choice of the student and parent, they should pay for it. However, if little Johnny Jones is on the free or reduced lunch program, there is a state adequacy grant of $1,750 for that child. I think there's some merit to the idea that if Johnny Jones wants to take guitar lessons, it should come out of that money.
Q: Isn't it going to be a little difficult for the teacher to get out to Jane's dance academy, Johnny's rock band, etc., to actually see what's going on there?
A: Absolutely, if they have to teach five periods a day five days a week like they do now. We're going to have to change the model of what school is. The schools are already going in this direction, not just in New Hampshire, but all over the United States. They are moving in the direction of a personalized plan for students. I believe we're taking it farther than other states
Q: What has been the reaction of local school boards and school administrators to some of these ideas?
A: I think from the educators' standpoint they all believe in the concept of providing kids opportunities. They all know kids learn in a variety of ways. At the same time, they all look to try to figure out how it impacts their world. I would say I get an equal amount of excitement and fright.
Q: What are you hearing from teachers?
A: I have some teachers who tell me they absolutely love this and are excited about it because it provides them flexibility. And I had one teacher tell me that she'll quit before she does anything like this. In any change process, you're going to have some that are going to be hard to sell and some that are impossible to sell.
One of the great things about this is and why I don't think it's that big a shift is that it's really tinkering around the edges of real-world learning and incorporating it into the fabric of what a school is. We're just saying to them, "Look, it's not just about those kids you have trouble with in your classes and you have to find something else for them. It's about giving these opportunities to all kids and letting the personal needs, the personal learning styles of the students end up driving their path to education."
Q: Would the schools, then, require fewer teachers and more guidance counselors?
A: I don't know the answer to that. Is it a valid question for down the road? Yeah, I think it is. I went to Hinsdale and saw Virtual High School, a company offering on-line courses. There were 25 kids in this class taking 20 different courses at the same time, overseen by a guidance counselor. The highly qualified teachers to meet the No Child Left Behind requirement might be in Texas or Oklahoma and the kids in these classes were not just in that physical space in Hinsdale.
Q: What role do you think business should play in public education?
A: In Claremont, someone from the (high) school went over to the Jenkins Academy of Dance and said, "I like the program here. If our kids can go through this course, that is worthy of something and we'll give them credit for it."
So you just take this model and say, if the Jenkins School of dance is OK, then could Ted Herbert's Music Mart be OK for guitar lessons? And then if that's OK, then how about Fisher Scientific? Do they have labs that might be worthy of a good science experience for our kids?
Let's look at the assets we have in our community and see how we can incorporate those things into the education of our children. I think it's the right thing to do.
Q: Are you optimistic that it will be done?
A: I think if we do this job right, then in five years from the implementation, I think we will have a very different school system in New Hampshire. And it will be the model for the nation.