Amherst Street, Fairgrounds get new leaders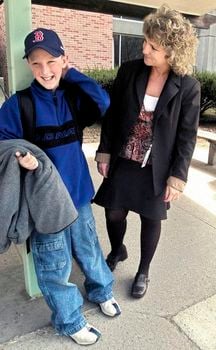 NASHUA – Amherst Street School just got a superstar.
Janet Valeri, who got the super designation from her graduate studies adviser at Rivier College, will become the next principal at Amherst Street starting July 1.
Valeri is currently an assistant principal at Broad Street and Mount Pleasant elementary schools. Before that she was a teacher at Mount Pleasant for 12 years.
On Wednesday night, members of the Board of Education hired Valeri to take over at Amherst Street and Michael Hogan to become the new principal at Fairgrounds Junior High School, which will officially be called Fairgrounds Middle School next year.
Superintendent of Schools Joseph Giuliano said more than 50 people applied for each job and the school district got two fantastic people to lead the two city schools.
Hogan, who lives in Londonderry, comes to Nashua from the Oyster River school district in Durham, where he was an assistant principal at Oyster River Middle School.
Giuliano said Hogan stood out for his caring attitude toward students. He has a students-come-first philosophy, which is just what Nashua is looking for.
Hogan will take over at Fairgrounds on July 1.
Valeri will start working at Amherst Street as soon as April vacation ends, while still splitting her time as an assistant principal at Broad Street, Giuliano said.
Bruce Blau, the current assistant principal at Amherst Street, will take over for Valeri at Mount Pleasant.
One of the first things Valeri says she plans to do when she gets to Amherst Street is to help serve students their lunch.
She does it to give kids another way to interact with her. It also stems from her philosophy that everyone at a school is on the same team, including teachers, janitors, lunch ladies and the principal.
"Just because I sit in the office it doesn't mean I'm different than anyone else in the school," said 38-year-old Valeri, who has a picture of Albert Einstein and the words "we all have bad hair days" on the wall in her office at Broad Street.
Valeri said her No. 1 priority is to strengthen the sense of community at Amherst Street. And Valeri is going to start by bringing consistency to the principal's office, which has been missing from the school this year, she said.
Last year Giuliano decided to switch principals at Amherst Street and Broad Street elementary schools. Ruth Tuttle left Amherst Street and Karen Crebase arrived. Soon after the school year began, Crebase left the school to raise her first child, which created the vacancy.
Giuliano wanted to assure the community at Amherst Street they got quality in Valeri.
"Janet's going to bring the stability to that school that we want," Giuliano said. "She's excited. She's a motivator. She's a doer."
As a teacher, Valeri twice won the Presidential Award for Excellence in Mathematics and Science Teaching. She was one of the first teachers to pilot Everyday Math in the school district and coached other teachers as the district adopted the new curriculum.
She says she is a product of the Nashua school system.
"It feels good to know they have molded me into who I am today," she said. "I don't know where I'd be if I hadn't come to Nashua."
According to Charles Mitsakos, the chair of the education department at Rivier College, Valeri is a superstar at the college and at the Nashua school district. He recommended her for the job without reservation.
But that doesn't mean Valeri will take anything for granted.
"It's not going to be easy – I know it won't," Valeri said. "But I'm going to give it my all."
Jonathan Van Fleet can be reached at 594-6465 or vanfleetj@telegraph-nh.com.