AMC hut system's economic impact: $17.9m
'An integral part of the regional tourism landscape'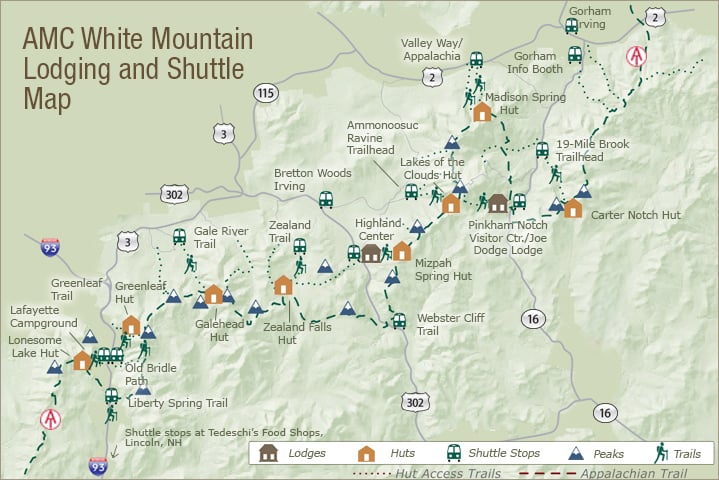 An economic study released by the Appalachian Mountain Club shows spending by out-of-state overnight guests at its White Mountains huts and lodges supported $17.9 million in economic activity throughout New Hampshire between June 2014 and May 2015, and 73 percent of the economic activity benefited businesses other than AMC.
The report was released as the NH Division of Parks and Recreation considers whether to let the AMC build another hut in Crawford Notch State Park.
The study, "Economic Impact of the Appalachian Mountain Club's Huts and Lodges in New Hampshire," was prepared by Daniel S. Lee of The Center for Rural Partnerships at Plymouth State University. It estimated the statewide economic impact of spending by overnight AMC guests as well as the impact on the tri-county area of Coos, Carroll, and Grafton counties.
Lee wrote in the study that AMC huts and lodges are "an integral part of the regional tourism landscape."
He said the huts "play an important quantitative role in the North Country's economy, by creating visitor spending that ultimately leads to the creation of jobs, income and taxes."
Businesses benefit
According to the study, AMC guest spending also supported 191 jobs in the state during the study period. Of those jobs, 64 percent benefitted businesses other than AMC.
The study also found that spending by AMC guests supported $15.6 million in economic activity in Coos, Carroll and Grafton counties alone.
The study considered the economic impact of AMC's nonresident overnight guests only. It did not consider the impacts of spending by day visitors or New Hampshire residents.
AMC provides meals, lodging and educational activities for the public at eight hikers huts and two roadside lodges in the White Mountains region. The huts are spaced a day's hike apart along a 56-mile-long stretch of the Appalachian Trail.
"Our huts and lodges offer unique opportunities for people to get out and enjoy New Hampshire's mountains, and it is gratifying to see the positive impacts our guests and the hut system have on economic activity and jobs in the North Country and around the state," said AMC President John D. Judge.
Winter self-service
The newly proposed hut would be the first one built by AMC that is not in the White Mountain National Forest. AMC officials have said overnight hut utilization has tripled since 1965, prompting the move to expand.
The new one would be called the Sparkling Cascades Hut and would be located near Ripley Falls, about midway between the AMC's Zealand Falls Hut and Mizpah Spring – a 14-mile distance along the Appalachian Trail that is the longest hut-to-hut stretch in New Hampshire.
In addition, the hut would be the first to be constructed with winter self-service in mind, he said, addressing the growing popularity of off-season usage, officials said.
Eight prototype designs are being considered at an estimated cost between $1.5 million and $2 million, said Judge.