Alton soapmaker finds inspiration in the past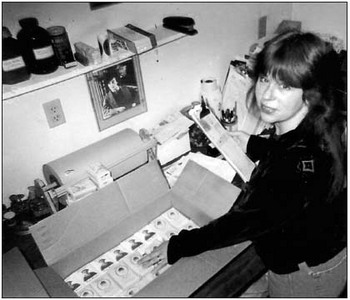 Cats in the Cradle doesn't pussyfoot around when it comes to putting its "simpler times of yore" message on its line of handmade soaps, lotions and lip balms.
Uniquely marketed with images from the era of silent films, owner Chris Whittman of Alton has turned something she's always done into a lucrative cottage industry – making allnatural body-care products from herbs she grows herself.
Whittman's blend of folk medicine, the selfsustaining lifestyle, silent movies and the feelgood aesthetic of the growing "spa at home" culture has its beginnings in her childhood. Her love of her mother's old folk medicine recipes — adaptations of which she uses in her products — was an important influence in her life. "My mother was born in Germany, and she used herbal remedies on us when we were sick. As a kid, I loved to concoct teas and salves from the herbs my mother grew," Whittman recalled.
Using herbs naturally developed into a keen interest in learning about them and growing them. Years of self-study and research led Whittman to become a regular columnist for herbal and gardening publications as well as a lecturer on the subject at the Canterbury Shaker Museum and the New Hampshire Farm Museum in Milton.
Describing herself as getting "back to the land" before the movement began in earnest in the early 1970s, it took her father's battle with cancer at about the same time to really spark her focus in herbal and all-natural products.
Whittman also says her cats had a lot to do with her decision to go commercial with her interest.
"We have an old barn on the property, and we started feeding a lot of stray cats.
Soon, we were taking care of 28 cats and we needed some way of supporting our expenses," said Whittman.
Cats in the Cradle Handcrafted Herbal Soaps was born soon after, and a fateful meeting with a supplier from New Hampshire Country Specialties at the New Hampshire Farm Museum gave her the outlet she needed to expand her business beyond friends and neighbors.
"I had been selling some products in the country store at the museum. The supplier tried some and really liked them and said I should really be marketing them," said Whittman.
Love of the Silent Era
With evocative names like Bay Rum soap, Rose Geranium soap, Gardener's Hand Cream with Honey and New England Sportsman's Bug Bar ("The essential oils really do keep the black flies and the mosquitoes from biting," says Whittman), her products are made at home from familiar herbs and such botanicals as lavender, rose oil, olive oil and chamomile.
She also uses less common ingredients, such as comfrey, burdock root and althea root.
"Making soap is very labor-intensive. It requires a lot of heavy lifting of kettles and stirring," she said. The soaps also are cut into cakes by hand and are hand-wrapped in their distinctive labels.
Whittman's love of all things vintage and herbal remedies come together exquisitely in her Silent Soaps, which are packaged with sepia-toned photos and short biographies of such silent film stars as Buster Keaton, Mabel Normand and Ben Turpin. Whittman said she hopes others will enjoy these artists of a bygone era as much as she does.
"I've always known I was born in the wrong era, but since I can't go back in time to tell Buster what a genius I think he was, I wanted to help generate interest in him, his films and the talented masters of the sight gag who've kept the world laughing for decades. To this end, I created the Silent Soaps line and proudly placed Buster's image on our best-selling soap, Bay Rum."
Apparently many agree with her – Whittman sells her products in country stores and markets in well over a dozen states. (Her products are available at New Hampshire Country Specialties and specialty stores around the state.)
For someone who naturally eschews technology, Whittman knows when to use the right advancement for the right reason. She did recently get a commercial mixer to help her with her soapmaking. Her products also are available through her Web site, www.catsinthecradle.biz. "My supplier threatened to leave me if I didn't," she laughed, only half-joking.
She also recently bought a digital camera and is swiftly adding photography to her growing list of interests. And while she does own a television, she and her husband use it primarily for watching videos from their extensive silent film collection.
Like most entrepreneurs, Whittman is constantly thinking of ways to grow the business, but still hold true to its roots. A flood in 1996 destroyed almost all of Whittman's gardens, which included some plants that were heirlooms or varieties not easily found in this country. Vandals also destroyed her hand-carved sign. These setbacks, however, have not stopped her. She and her husband are steadily reconstructing the gardens – despite the best efforts by resident groundhog Elwood – and the sign is being replaced. As the weather warms, she plans on selling herbs and perennials from her gardens.
Someday, Whittman hopes to renovate the barn on her property into retail space, possibly making room for other local artisans to sell their crafts as well as antiques. "We get a lot of traffic in the summer and people are always stopping by and asking if I have a shop," said Whittman.
But like most entrepreneurs, it is the thrill of self-reliance that fuels her passion.
"I mostly enjoy working for myself."
Which she does, naturally.