Along with skills training, HR group's program gives female inmates hope for 'the real world'
Not only are female inmates being left out of vocational training, but women's incarcerations tend to have a greater ripple effect on the larger society and economy than men's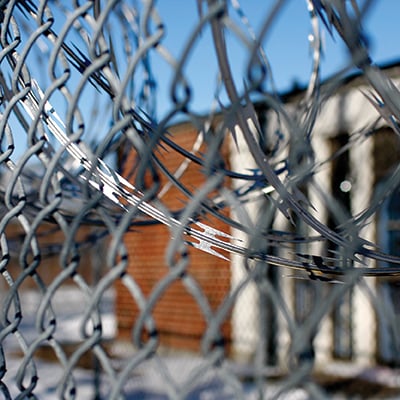 When Becky McGuire first walked out of the women's prison in Goffstown after serving three years for theft, she was elated. But that happy feeling was quickly replaced by another, more insidious one: fear.
"It was total fear," McGuire remembers. "What are people going to say? How do I fill in the blanks about where I've been?"
Despite her degree in economics, despite being polished and well-spoken, despite support from her family, McGuire struggled to transition to life outside the prison walls. But one thing that helped her with that transition was New Journey, a program developed by the Human Resource Association of Greater Concord and run by volunteers.
New Journey provides career development and job-search support to women who are transitioning out of the New Hampshire state prison system. Founded in 2002, the program works with women just as they're about to re-enter society and the workforce. The multi-week program includes sessions that cover topics ranging from stress and anger management and conflict resolution, to resume and cover-letter writing, mock interviews, skills assessments, and customer service and interpersonal skills development.
There's no doubt that women need help finding employment as they leave the New Hampshire prison system. Men who are incarcerated in New Hampshire have the opportunity to engage in many hands-on vocational training opportunities, preparing them for relatively well-paying jobs when they're released.
"Women don't have those same opportunities," says Kelly Paquette, program manager for Goodwill Industries of Northern New England. "It's not that they're not capable of it. There are very limited services to help them when they get out."
Goodwill Industries of Northern New England operates a mentor program for women who are transitioning out of prison and encourages those women to participate in the New Journey program as well.
A 2011 U.S. Commission on Civil Rights report found that the New Hampshire women's prison in Goffstown "has almost no space available for basic vocational training," which inhibits the women's "ability to prepare for productive and self-supporting work upon their eventual release from incarceration."
The report also notes "the exceptionally high recidivism rate for female offenders in New Hampshire."
Half the equation
Not only are female inmates being left out of vocational training, Paquette says women's incarcerations tend to have more of a ripple effect on the larger society and economy than men's.
"The impact of a woman being incarcerated is typically much different than a man," she says. "The impact is not only on that person that's incarcerated."
For instance, most female inmates are mothers and are usually the sole providers for their children. And where do those children go when their moms are in prison? Often into foster care, which costs $25,000 per year per child, according the 2011 report.
Paul Wilson, president of Wilson Employment Networks LLC, which has offices in Manchester and Concord is a member of the Human Resource Association of Greater Concord and a New Journey volunteer. He says job searches for these women often end with minimum-wage positions, if they can find jobs at all.
"That would be hard for anyone to survive on," Wilson says.
And the stress of being unable to find a job and provide for their families only compounds the odds that they'll re-offend.
"When you come out and you have a lot of stress, a lot of recidivism happens that way," Wilson says.
Although New Journey aims to fill the gaps in services for female inmates, it's only half the employment equation. Employers need to be willing to hire these women, and often, they're not.
"It's really hard to get a job with a felony record," Paquette says. "There's a really unfortunate circumstance out there that employers won't take a look at these women."
Take Marianne Lord of Derry, for instance. She was one of the best workers at a medical assembly company. Her supervisor loved her, and she was convinced that the temp position would become a full-time one. But two months into the job, she was unceremoniously let go. There was no real explanation. It was a "corporate decision," she was told. But she says she knows why she was fired: She has a felony record.
"As soon as they know about your record, they look at you completely different," she says. "It doesn't matter how well I worked."
Although Lord has been honest with potential employers about serving a year in prison for theft, she's still struggled to find and retain a job since being released last year.
"We're trying to get our lives back together, and it's not easy for us when people don't give us a chance," she says. "I would like businesspeople to realize that because we've made a mistake doesn't mean we're bad people … I know people go in and out of prison, but I'm not that person. I will never go back."
'We're all human'
Although employers might hesitate to hire someone with a felony record, Paquette and Wilson say each woman should be judged individually. Wilson adds that being part of and completing the New Journey program shows that these women have committed to improving themselves and their lives. A certificate that's awarded upon completion of the program provides the women with a sense of achievement and credibility; it's something that they can point to show that they're working on being healthy, productive members of society, he says.
Lord says she completed New Journey and any other educational program that she was offered while she in prison. She says New Journey helped her learn about marketing her skills, improving her resume and interviewing techniques. But more than that, it offered a sense that she could rebuild her life.
"It was my great hope," Lord says. "When you're in there, there's no hope … it gave you a feeling that it's going to be OK."
Wilson says employers considering hiring someone with a record need to see that the person has taken responsibility for her crime. Employers should also "really be evaluating what kind of resources this person has around them … do they have a place to live? Can you communicate with them? Are their skills and experience going to advance to organization?"
To mitigate the financial risk, Paquette points to a federal bonding program that provides a no-cost bond for companies to hire people with at-risk behaviors. According to the New Hampshire Employment Security website, the program provides bonding in $5,000 increments, up to $25,000, for the first six months of employment "at no charge to the employer or the worker."
Although Wilson says doing a good deed isn't reason enough to hire one of these women, "being open to meeting the person and talking to them and finding out what they're about" is important for employers.
"We all make mistakes in our lives, and sometimes we get help from others," he says. "Maybe the severity of those mistakes are on different levels, but we're all human."
Paquette echoes this, encouraging employers not to immediately close the door to the idea of hiring these women.
"We're not all that far removed from what these people are going through," she says. "To give someone a second chance is incredible."
An example of the power of second chances is certainly evident in McGuire, who has become an advocate for improving conditions for women in prison, serving on the board of Citizens for Criminal Justice Reform and speaking about her experience in front of chambers of commerce, church groups and other organizations. And through her connections and networking with the New Journey program, she recently found a job as a project manager at a company in Manchester.
"The New Journey program is probably one of the best programs that they have there, and I personally believe that every person who comes through that prison should take it," McGuire says. "It gave me hope that the real world was going to accept me back."