Alliance honors preservation achievements
Nine awards recognize leadership in revitalization, stewardship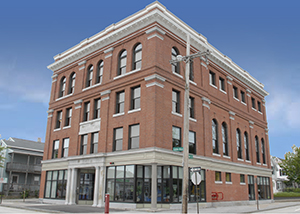 Seven projects across the Granite State have been recognized by the New Hampshire Preservation Alliance for outstanding achievement in preservation.
The alliance's Preservation Awards recognize individuals, organizations and corporations for work or projects in the categories of restoration, rehabilitation and stewardship as well as advocacy, planning and education.
The seven construction projects recognized are:
• Danville Heritage Commission's rescue and restoration of the Webster Stagecoach Stop and Store
• Old Allenstown Meeting House Steering Committee, the town of Allenstown and the Allenstown Historical Society's restoration of the Allenstown Meeting House
• Shandra McLane's revitalization of 32 Main Street, Ashland, for Squam River Studios
• City of Manchester's revitalization of Dearborn Memorial Hall/Odd Fellows Hall
• Dakota Partners Inc. and Bank of America CDC's rehabilitation of the Hillsborough Mills for the Pine Valley Lofts, Milford
Also honored were the Friends of Stark Park for stewardship of Stark Park in Manchester and the New Hampshire Army National Guard's for its design of a new addition for the Milford Readiness Center
In addition, Pat Meyers of Manchester was recognized for her commitment and contributions to preservation efforts on the state and local level. As a board member, chair, committee member and volunteer of the N.H. Preservation Alliance, Meyers has played a key role in transforming and sustaining the organization, according to Alice DeSouza, former director of the N.H. Division of Travel and Tourism and adviser to the National Trust for Historic Preservation.
The Preservation Alliance also acknowledged Historic Harrisville Inc.'s commitment to innovation, good business, and community-wide stewardship in an award for outstanding leadership in historic preservation.
The group was formed in 1971, in reaction to the bankruptcy of the town's major employer and property owner, with a new, forward-thinking model of adaptive use to keep Harrisville a working town. One building at a time, the group has raised money, found tenants who fit their vision, and preceded with renovation, while pursuing conservation and housing goals along the way.