Acu-Gage receives patent for thickness measuring technology
ACU-THIK brings further precision to semiconductor wafer production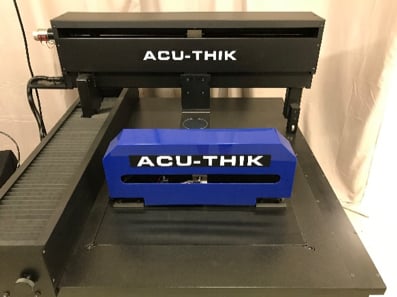 Acu-Gage Systems — a Hudson-based manufacturer of non-contact coordinate measuring machines serving medical, semiconductor, aerospace and other industries — has been awarded a patent for its ACU-THIK precision thickness measuring system.
All 21 patent claims were approved readily by the U.S. Patent and Trademark Office "because there is no other machine available that can match ACU-THIK for thin substrate thickness accuracy across all X, Y coordinates," said the company in a press release.
ACU-THIK is an automated thickness measurement tool incorporating dual contact probes for high accuracy inspection of semiconductor wafers and other thin substrates. Six Heidenhain measuring devices are integrated into the ACU-THIK system, which can be configured to accommodate wafer diameters of 100 millimeter – 400 mm and larger.
Diagnosing as well as controlling thickness, bow and warp in semiconductor wafer production is now automated when ACU-THIK users preprogram multiple pattern operations to fulfill planned production cycles, said the company. Additionally, the system supports robotics integration to free up operators' time for other important tasks.
"This is a tremendous breakthrough for Acu-Gage and the semiconductor manufacturing industry as well as some others," remarked Acu-Gage President Jack Kane in a press release. "Our customers can be confident in implementing the only truly automated and extremely accurate thickness measuring system in the world for their quality control. Some of our customers have known this for a while and having the technology patented now offers us new opportunities."