ABC Young Professionals Spotlight: Steve Mullins and Chris Fredette
The Longchamps Electric duo take pride in the work they do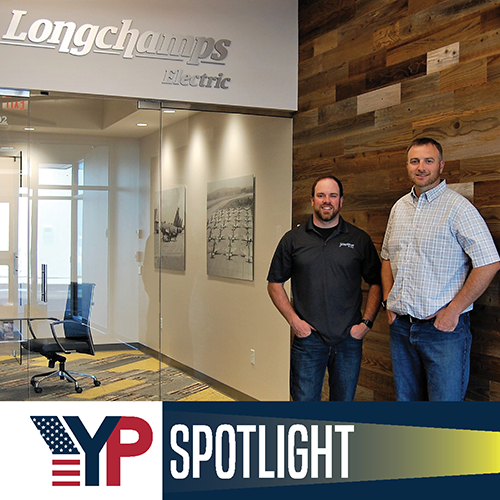 You might have heard about the Associated Builders and Contractors Young Professionals Group Annual Brewery Bash coming up on June 27 at the new 603 Brewery in Londonderry,. Some of our very own worked on the new facility, so for this month's YP Spotlight, we brought in not one, but two young professionals who had a hand in building the new venue.
Throughout our first ever double-feature, electrical foreman Steve Mullins and project manager Chris Fredette of Longchamps Electric painted a picture of a trade driven just as much by social and professional networks as electrical connections. Their description of their company as an organization that emphasizes the importance of team effort, relationship-building and acting as a conduit for professional knowledge makes it no wonder that the two electricians have tenure of 15 years and 23 years, respectively.
Steve describes his position as foreman as "the boots on the ground," the person responsible for the day-to-day work of the electricians. Chris is quick to elaborate on the importance of Steve's role, asserting that Steve is responsible not only for converting drawings to actual pipe and wire, but for the future of the business. The quality of an installation is in Steve's hands, and it's his work the company has to stand behind at the end of the day.
Steve also oversees the apprentices in the field, or "tomorrow's foremen," as Chris would call them.
In his role as project manager and hiring manager, Chris wears many hats. Rarely in the office for an entire day, he manages the logistics of jobs and the execution of projects. His fast-paced and diverse position might take him from completing project buyouts one hour to overseeing an OSHA inspection in the next.
Neither Steve nor Chris set out to become electricians. In high school, Steve worked for a marine mechanic and had never given more thought to electrical work than to take Electrical 101 to learn how to wire his house. When applying for jobs at the end of his senior year, he applied to Longchamps after hearing about the company through a friend who worked there. Chris had done a bit of work in a mechanic's garage early on and picked up a job as a shop kid at Longchamps when he was 16. At the time he was hired, the job wasn't much more to him than 40 hours per week on his summer vacations to fund the reparation of his Subaru Brat.
Today, both Steve and Chris express great appreciation for their trade. They describe the pride in that moment when you get to turn the lights on for the first time toward the end of a project. For both of them, what started as a mere job turned into a leadership role and a career that taught them not only their trade skills, but also how to be managers and mentors.
When asked what advice the pair have for young trades workers, Chris and Steve are quick to assert that success doesn't mean you won't make mistakes. Instead, they encourage young trades workers to have an understanding of the process and methodology of construction. If you're an electrician who understands a little bit about masonry, plumbing and carpentry, and how your work ties into the work of the other tradesmen, you're in a better position to be able to get yourself out of an electrical mistake without affecting the other trades.
Founded in 2012 as an initiative of the Associated Builders and Contractors NH/VT, the ABC Young Professionals Group's mission is to develop, empower and connect young professionals through events in an effort to enhance their professional development and business success within the construction industry. ABC YPG seeks to contribute to efforts to attract, develop and retain a skilled workforce by providing opportunities for professional development to young workers.