ABC Young Professionals Spotlight: Colin Lane
The Metro Walls project manager understands what it takes to be a leader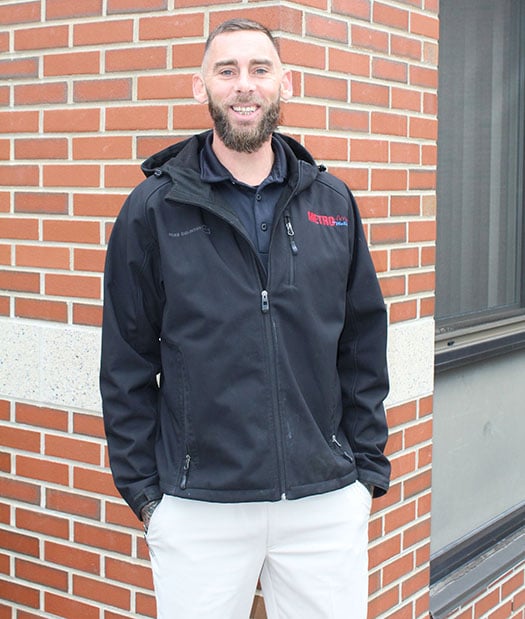 Colin Lane is a man who understands that actions speak louder than words and that morale is a critical element of teamwork and productivity.
Colin, a project manager for Metro Walls Inc., calls this quiet leadership – never asking anyone to do anything he wouldn't do himself and always finding a way to put a positive spin on tough situations.
In his job, he said, he never allows himself to become a stranger to his team, or to his tool belt. When he calls his foremen to ask for job updates, he also makes it a point to ask about the team. When he visits his job sites, he is sure to spend time in the field energizing his people and encouraging them to have fun. When his team is up at 4 a.m., so is he. Colin believes in solidarity.
Working for his father's drywall company as a kid, joining the Marines at 17, leading a rifle squad at 19, and riding and training horses throughout his life all taught him that a leadership position has to be earned daily, that work ethic can trump talent and that integrity means doing the right thing when nobody is looking.
Colin said he finds that leading by example is often the best solution to a problem.
When a subcontractor was underperforming on one of his jobs, he chose not to put the sub on notice via email, and he skipped the standard angry phone call. Instead, he showed up at the job site at 5 a.m., an hour before the sub was expected to arrive, and framed a bathroom in that hour. It had taken three of the sub's workers two days to frame one of the other bathrooms. When the sub's team showed up, he simply expressed to them that if he could frame a bathroom in an hour on his own, he knew they could do even better.
Colin says he finds this quiet approach to be the most effective method of management, and sure enough, the sub's team found it in themselves to meet his expectations.
Outside of work, Colin lives out his American dream. He works hard so he can get home to his back porch, his two kids and his wife, who is the love of his life. He is proud to have lived out what he considers the two greatest honors he could have in life: to serve his country and to raise children.
When asked what advice he has for young workers in the construction industry, Colin quickly says: "Get up early, no matter what" and have a thick skin. This is a production-based industry, and young workers will likely find themselves learning from mentors who are tough. In order to learn to be a good leader, you have to learn to be a good follower, so ask questions, pay attention, and be sincere.
Founded in 2012 as an initiative of the Associated Builders and Contractors NH/VT, the ABC Young Professionals Group's mission is to develop, empower and connect young professionals through events in an effort to enhance their professional development and business success within the construction industry. ABC YPG seeks to contribute to efforts to attract, develop and retain a skilled workforce by providing opportunities for professional development to young workers.