ABC Young Professionals Spotlight: Cody Barnes
The Methuen Construction assistant project manager has a 'can-do' attitude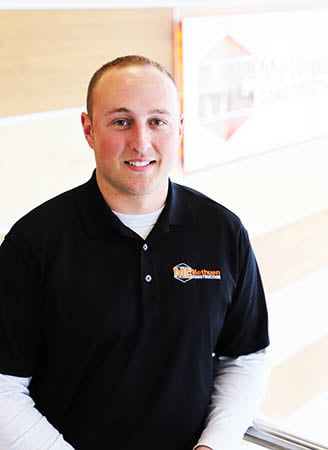 Cody Barnes was an inherently industrious child who spent his days in the backyard digging holes and nailing things to the fence. Luckily for his parents, he quickly learned to channel his love of working with his hands into more productive pursuits, such as renovating his parents' bathroom and taking the lead on his family's home improvement.
Though Barnes had quite the reputation as a builder and knew he could never work every day cooped up in an office, he never thought he might end up in the construction industry. Instead, he followed his appreciation for productivity and tangible results, became a civil engineer, and found himself in an industry perfectly suited as an outlet for his natural motivation.
As an assistant project manager for Plaistow-based Methuen Construction, Barnes values his ability to go outside every day, to grab a wrench and get his hands dirty if he wants, and to witness something being built.
The term "workaholic" might be associated with a number of negative connotations, but to Barnes, it's associated with loving what you do and not imposing limits on yourself. When he gets up to go to work in the morning, he looks forward to his day. When he gets home, he heads straight past the couch and reaches instead for his tools so he can paint walls, install new lights and swap out hardware.
His peers describe him as self-motivated and praise his ability to turn a vision into reality. His supervisors describe his "can-do" attitude and his dedication to doing what it takes to get the job done, even if it means joining laborers on overnight jobs tying rebar and building formwork.
Never the type to wait for someone else to explain a process to him, Barnes is known for taking his work and his career education into his own hands, teaching himself to use software and build schedules that many would find daunting without prior instruction.
When asked what advice he has to offer young trades workers, Barnes emphasized the importance of promoting growth and empowerment of workers. You might be able to build anything, he cautioned, but if you're unwilling to listen to and empower your employees to contribute on a level beyond using their hands, the project is going to suffer.
Cody also stressed that you shouldn't limit your own success. Everyone is capable of climbing the ladder; the question is where and when you want to stop.
Founded in 2012 as an initiative of the Associated Builders and Contractors NH/VT, the ABC Young Professionals Group's mission is to develop, empower and connect young professionals through events in an effort to enhance their professional development and business success within the construction industry. Nominations are now open for the 2019 Young Professional of the Year. To learn more, visit abcypg.org.