AARP Voters' Guide: Shaheen, Sununu voice domestic priorities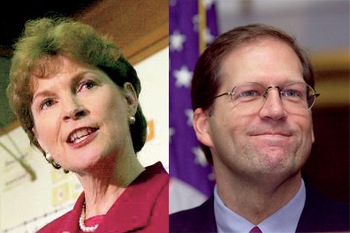 AARP asks major candidates in selected races questions about the issues most important to its members and their families. AARP doesn't edit the candidates' answers. Here's what the candidates for U.S. Senate in New Hampshire, incumbent Republican John Sununu and Democrat Jeanne Shaheen, had to say on priorities, retirement security and health care.
Q: What will be your top domestic issue priorities if elected?
Jeanne Shaheen: In the Senate, my top domestic priorities will be to control health-care costs and expand access to affordable health insurance coverage; create a smart energy policy that ends subsidies to the oil and gas industries and instead invests in alternative energy and energy efficiency so we can decrease our dependence on foreign oil and reverse global warming; and strengthen our public education system, including making college affordable for middle class families again.
As a Democratic governor working with a Republican-controlled legislature, I regularly worked across party lines to achieve effective solutions.
I know how to put partisan politics aside to reach consensus on solutions to the real problems that people face, and I will bring that experience to Washington.
John Sununu: My top domestic priorities include:
1) supporting New Hampshire's small businesses by keeping taxes low and helping them to provide all employees in New Hampshire with access to affordable health-care coverage; 2) balancing the federal budget by keeping our economy strong and eliminating wasteful Washington spending; and 3) setting America on a sound energy footing by encouraging conservation, supporting renewable energy technology and allowing responsible domestic energy production that will reduce our dependence on Middle East oil.
I have proven my ability to work across party lines, supporting a bipartisan effort to reauthorize the State Children's Health Insurance Program, joining with Democratic Sen. Tom Carper to pass the Internet Tax Freedom Act, and even joining Sen. Hillary Clinton to pass a law strengthening automobile safety standards.
Q: What options do you support to make saving for retirement easier for American families?
Shaheen: While I support providing tools to aid people in saving for retirement, given the need to balance the budget and preserve Social Security, I cannot commit to new federal spending.
Sununu: Individual retirement accounts are valuable tools for families to plan and save for a secure retirement, and should be encouraged to the greatest extent possible. By automatically enrolling workers in a savings plan, such as an IRA or 401(k), participation rates and retirement savings will increase. Naturally, those who wish to opt out may do so, but IRA contributions can be accumulated without imposing costly systems on employers.
Q: What policies would you support to make health care and health insurance more affordable and accessible for everyone?
Shaheen: I believe that all Americans should have access to quality health care. We need a comprehensive plan to reduce health-care costs, including increasing access to preventive care, move to electronic medical recordkeeping, and lowering prescription drug costs by permitting the importation of drugs from Canada and allowing Medicare to negotiate for lower drug prices.
Sununu: As senator, I have made health care a high priority, and I'm pleased this work has earned national recognition, including the National Association of Community Health Centers' 2008 Superhero Award and the Helen Keller Achievement Award in Advocacy from the American Foundation for the Blind for work to bring vision rehabilitation therapy coverage under Medicare. Today's employer-based system provides health-care coverage for millions of families and shouldn't be weakened in the name of "reform." But we should give individuals more purchasing and decision-making power, allowing consumers to purchase health insurance from nationwide providers and receive a full tax deduction for all health-care costs. Small businesses must be allowed to band together to improve insurance purchasing power, and be given greater access to health savings accounts. Within our Medicare system, we must encourage the use of information technology and electronic prescribing and actively promote better chronic disease management.