A tale of 2 administrations
Comparing and contrasting President Trump and Governor Sununu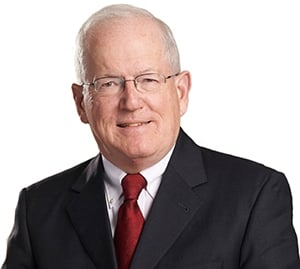 On Feb. 22, New Hampshire's senior U.S. senator, Jeanne Shaheen, spoke to the New England Council at the Bedford Village Inn. Ever discreet and proper, New Hampshire's senior political officeholder was careful not to overtly criticize the new president, although she made clear her differences of opinion both on appointees and policies.
Recently returned from the Munich International Security Conference, Shaheen noted that a record-sized congressional delegation attended, showing the support of Congress for traditional military and defense alliances that have been called into question by certain remarks made by President Trump.
Reflecting on the senator's position, this writer thought back to 1968, another time of change and unrest. At that time, the comparable figure in New Hampshire politics to Shaheen was U.S. Sen. Norris Cotton, the senior senator who had served since the early 1950s and who was a ranking member of the minority party.
Like Cotton, Shaheen demonstrated stability, perspective and common sense in her remarks, although her appearance and philosophy are significantly different from Cotton's.
Shaheen noted the difficulties faced in national defense, budget, health care and tax policy. She pointed out that everyone seems to be for tax reform, but the details are difficult if budgets are to be balanced and government is to be financed properly. On health care, she noted the detrimental effect of the repeal of the Affordable Care Act if nothing equivalent or better is put in its place the detrimental effects on other parts of the federal budget if health care insurance is replaced by welfare and other government-funded subsidies.
One interesting comment she made was that Congress is the subject of Article One of the Constitution, demonstrating its preeminent place in the minds of those who drafted it, ahead of the executive (Article Two) and the judiciary (Article Three). She indicated that a number of Republicans are growing weary of the administration's apparent disarray, and if that continues, Congress may reassert its position as the dominant force in Washington, a role that has been assumed by the president for many years.
These comments led to discussion at my table of the performance of the new president. The consensus of those from both parties was that he would be better served were he to jettison several of his spokespeople, his policy adviser and his android phone.
While many of his appointments have won praise and respect, some are just curious and, certainly, his defensive posture personally is unwarranted, given the fact that most Americans hope that their new president will do well and are willing to give him the benefit of the doubt, if only he would take advantage of that possibility!
By contrast, in Concord, the new administration of Republican Gov. Chris Sununu has been active, vigorous and refreshing. Sununu's youth and optimism, coupled with his bright conversational style and obvious intelligence, have led to a number of vigorous presentations, all done without notes, a departure from the style of his predecessor.
In his first substantive presentation to the Legislature, Sununu presented his budget, which had a number of new proposals, including scholarship aid for New Hampshire students, funds for the Community College System, an infrastructure assistance fund, over $50 million in additional help for developmentally disabled persons and an increase in the alcohol fund.
Notable was the lack of increased funding for the University System of New Hampshire, an omission criticized by many in a time when competitive educational pricing appears to be a key element of success.
On a less positive note, the governor's endorsement of the so-called right-to-work bill was not enough to pass it, as the House defeated it narrowly but decisively and then passed additional measures to keep it from being reconsidered during this biennium.
While many debate whether this is a major issue in New Hampshire, it was prominent on Sununu's agenda, and there was a lot of finger-pointing after. This writer suspects that had public sector unionization been deleted from the bill, it might have passed, because the presence of teachers, firefighters and police union representatives in the State House on the day of the vote indicated the vigor with which they opposed the bill.
Brad Cook, a shareholder in the Manchester law firm of Sheehan Phinney Bass & Green, heads its government relations and estate planning groups.