A study in time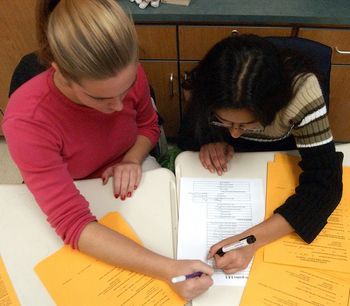 NASHUA – The pink, purple and yellow surveys flashed before the eyes of Lisa Gingras' advanced placement statistics class.
Nashua High School senior John Collins tallied the results of nearly 140 surveys during the first-period class Wednesday.
"It's monotonous," he said, flipping over another purple survey after recording its information with a few slashes of a pencil. "It seems to go on forever. I had no idea there were so many of these."
Collins and his classmates have tallied the results of more than 5,000 surveys from students, teachers and parents since the Monday before Thanksgiving.
Those results may help members of the Board of Education decide what time Nashua students go to school next year.
The school district has toyed with the idea of changing school starting times to be more in line with research that has found older students learn better when they go to school later. Studies say the same is true for younger students who go to school earlier.
Currently, the school district's oldest students start school as early as 7:20 a.m. Some of them are catching buses around 6 in the morning. Meanwhile, the district's youngest students start school the latest. In some cases, they start school as late as 9:08 a.m. and get released at 3:33 p.m. For some students, the buses don't drop them off at home until around 4:30 p.m.
The proposed changes would flip-flop that setup.
Time for change?
While sending older students to school later and younger students to school earlier may seem like a simple change, it's not. It would alter the way family schedules have been established for years.
High school students often oppose it because it would cut into hours for their afternoon part-time jobs and extracurricular activities.
Parents of young children tend not to like it because it means their children, as young as 6 or 7 years old, would be at the bus stop before the sun rises in the morning. Others complain _because it would mean younger children would be home in the afternoons long before their older siblings are. That disturbs many family plans for afternoon baby-sitting.
Rather than just order a change and force people to adjust, the School Times Committee sent out surveys to parents, teachers and students above eighth grade.
"We wanted to get a feeling from the community about what they think of the existing school times and if any changes are desired," said school board member Kim Shaw, who chairs the committee.
"We're trying to figure out what direction the community would like to take."
The students in Gingras' advanced placement stats class have had a peek at what that direction is.
"A lot of people do not like the 9:08 time," said junior Laura Ash, referring to one of the proposed times to start high school classes.
Ash said if she were on the school board, she would keep things just as they are.
"There's never going to be a time that everybody is happy with," Ash said. "Different people have different opinions about things. You're always going to have controversy. Changing it just might make it worse."
One option that wasn't given to anyone filling out the surveys was moving the entire district to a two-tiered busing system.
Currently, the same fleet of buses combs the city to pick up students three separate times. Having more buses do that only twice would create more options, but it also comes with a price – nearly $1 million per year.
Sweet dreams
The National Sleep Foundation has spearheaded the research on sleep and learning. The group's studies show 60 percent of children younger than 18 complain of being tired during the day.
According to the foundation, teens who sleep about 9½ hours a night perform better in school. Yet the vast majority of students report getting fewer than eight hours of shuteye a night.
Most high schools start around 7:20 a.m. If teenagers go to bed around 11 p.m. and get up around 6 a.m. – or maybe 6:30, if they don't take a bus – that's at least two hours of sleep less than what their bodies are calling for.
Members of the School Times Committee are aware of this research. It's persuasive, Shaw said, but if people in Nashua are against changing school times, it might be a fruitless venture.
"If we get these surveys back and the majority of people say it's fine the way it is, I'm not sure that's something we want to force on the community," Shaw said.
There will be a public hearing to air the results of the survey and to allow for more public feedback, Shaw promised. That likely will happen later this month or in January, she said.
It's likely there will be some adjustments to school times next year, regardless of the survey results, because the district is going to move to two high schools for the first time ever. Some adjustments may be inevitable, Shaw said.
The one student who sits on the School Times Committee, Jim Kaklamanos, is in favor of keeping things the way they are. He also is in Gingras' statistics class.
"If it isn't broken don't fix it," he said. "The current system that is in place has worked and people have adjusted their lives around it."
Last week, when there was no school due to the Thanksgiving holiday, Kaklamanos slept in until 10 a.m. Instead of lumbering out of bed bleary-eyed at 6 a.m., he rolled over and stayed put.
It was a nice treat to sleep in, but he doesn't think starting school later in the morning is the answer.
"If school started later, students will still go to bed as late as they can," he said. "They'd stay up later and get the same amount of sleep."
Shaw said she's keeping an open mind. Changing school times is not a done deal, she said.
"I'm trying to prepare myself for any possible result that could come back from these surveys," she said. "It is a decision that raises a feeling within people. It's difficult to change the way we've always done things."