A robust economy in the Seacoast communities
Business leaders discuss tourism, housing and what the greater Portsmouth area has to offer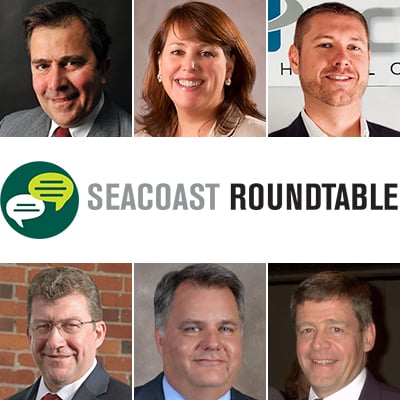 NH Business Review's editors asked representatives of different industries in the greater Portsmouth area for their views on the economy and the issues affecting the area.
Participants were:
Doug Bates, president, Greater Portsmouth Chamber of Commerce

Brian

Gottlob

, principal,

PolEcon

Research

Molly Hodgson, executive director, Greater Dover Chamber of Commerce

Timothy Martin, president/CEO, Neoscope

Daniel Morrison, president & CEO, Optima Bank & Trust

Brian O' Brien, managing broker, Norwood Group
Q. What are the strengths and weaknesses of the Seacoast economy?
Brian Gottlob: What I think makes the Seacoast somewhat unique, in New Hampshire at least, is that its communities work really well collectively, as a region, even though most of that collaboration is completely unplanned. Different communities have different strengths to offer, and a weakness of one community may be offset by another community. No community has all of the elements needed for the region to thrive.
Portsmouth adds cache and a certain 'cool' to the region that can help attract and retain desirable demographic groups that help make the region vibrant, but it has very high housing costs and few remaining sites for development. Dover offers more amenities each year and is seen as more affordable (and I think more 'family friendly' community). It has more room for business growth, and at a relatively lower cost – in terms of rents and land – than Portsmouth. Rochester has lots of space and sites for business growth. Businesses are more able to attract the 'talent' they need to grow by locating in the Seacoast than they are in many other areas of the state. If a business chooses a Seacoast community that meets their location needs, they can also be pretty sure that the can offer their workforce attractive communities in which to live.
Molly Hodgson: The strength of the Seacoast economy is its diversity of types of businesses located here and the rich tapestry of small business starting up in this region. Entrepreneurship and innovation are the driving elements of our rapidly expanding economy.
Timothy Martin: The biggest strength of the Seacoast economy, to me, is the cooperative environment that businesses operate in out here. We are united in our efforts to help each other grow, thrive and create new opportunities. The Portsmouth Chamber, Catapult Seacoast, Leadership Seacoast, and Trade Association at Pease are all prime examples of the unification of our economic ecosystem. Our main weakness, that I see, is a shortage of talented people. We are the 3rd oldest state in the country and our college graduates are all being recruited out of state for their careers. We need more focus on creating opportunities for these students between their junior and senior years to get them excited to stay, work and play in our community.
Dan Morrison: The New Hampshire Seacoast economy is strong and diverse. The unemployment rate in the Seacoast is among the lowest in the United States. The real estate market is strong, and the economy is growing. Many businesses are hiring and creating jobs.
Brian O'Brien: In my opinion the "quality of life" is a main driving factor of the Seacoast economy. Entrepreneurs are attracted to the lifestyle the Seacoast offers, combined with New Hampshire's continued low taxation philosophy. Not only is it a benefit to the business owner, but also a key benefit to attract potential employees.
Another strength of the Seacoast economy is its diverse employment base. The area is not mainly dependent on one industry and can still grow and prosper through difficult economic conditions. If one industry is in trouble, the negative effects are balanced by strengths in other industries. Thus we are not as susceptible to certain declining industry business cycles.
Doug Bates: Fishing, once a strength, is now a weakness. The industry has suffered greatly. If it were not for tourism, the Seacoast would probably be very different place. Tourism has grown significantly, and with it comes increased business in many sectors, most notably financial serves. It is interesting that the financial epicenter of New Hampshire is slowing moving toward the Seacoast and away from the center of southern New Hampshire. Unemployment is low, but the aging population is a trend that could impact the region if we cannot bring in more young people.
Q. What are the particular challenges that face the tourism industry on the Seacoast?
MH: One of the challenges facing Dover's restaurants, hotels and arts and cultural amenities is increased competition. All major sectors of the Dover economy are doing better than last year. The success attracts new arrivals to the market and more options for dining, shopping and recreation.
TM: I believe our tourism industry in the seacoast is thriving. However we do face a big challenge when it comes to parking in Portsmouth. Other communities like Dover have found solutions to this issue and make their cities very accessible. We need to follow their model in Portsmouth.
DM: Like most industries, success depends on hiring good people, and the labor market is very competitive. The unemployment rate in Portsmouth is 2.6 percent. Businesses are hiring, but some are finding it difficult to find the workers they need.
DB: Tourism is the second largest industry in New Hampshire. It has been built over many years by the hard work of many Seacoast businesses. Now that the Seacoast is a popular destination, sustaining the ability to keep visitors coming is the challenge of the future. Who will pay for the marketing and other tourism related costs, and how these costs will be shared equitably is becoming very challenging as increased competition from other destinations continues to grow.
BG: From a personal observation, there doesn't seem to be much of a regional tourism identity like there is in some other areas of the state. I like the historical aspects of the region, but shopping or visiting the coastal beaches or the ambience of Portsmouth are much more responsible for tourist activity – is there a theme or identity and does it matter? I guess my concern – and I may be the only person on the Seacoast or in New Hampshire concerned – is that there is a blurring of the rationale for visitors to come to the Seacoast. I guess we could be everything to all people, but I have never thought that a recipe for success in any business.
Q. What is your perspective on the state of the housing market and how it affects growth?
DM: There is a tremendous amount of activity in the housing market right now. Demand is outpacing supply, which is generally a very good indicator of a growing economy.
BO: Although I work in the commercial real estate field – not residential – my observations are that the Seacoast is seeing rising residential housing prices and rental rates due to increased demand for housing and a lack of inventory. Combined with a low interest rate environment, I expect continued rising prices over the next several years. Additionally, coming out of the "great recession," minimal speculative new construction has taken place, not keeping pace with demand.
TM: The housing market has a direct impact on the growth of our local economies. When housing prices are driven up, we see less and less opportunities for the younger generation to find affordable housing, to be able to live in our communities and secure local jobs.
MH: The Seacoast is one of the least affordable regions in the state. Dover is working to help our residents live in the communities they work in. This helps employers retain workers and grow their businesses and it helps families volunteer in their communities and spend quality time together, by decreasing long commutes. Dover has partnered with the Seacoast Housing Coalition on design concepts for workforce housing in our downtown so that our teachers, nurses, municipal workers, artists and service providers can live and be civically engaged in our community.
DB: In general, and especially in Portsmouth, housing costs are high due to the popularity of the Seacoast as a great place to live, work and play. This makes for a great real estate industry, but this puts up barriers to young families and service employees. If we cannot attract college graduates and young families, the future is less bright for continued growth.
BG: If all workers in Portsmouth had to live in Portsmouth that would probably constrain that city's growth because of high housing costs, but there are lower cost alternatives in the region so I don't believe high housing costs have yet harmed the economy. Unfortunately, rising housing costs always occur when a community or region's economy is growing. The region has some communities with relatively lower housing costs largely because those communities offer fewer services and amenities but unless the region has communities that do have a high level of amenities and services desirable to skilled individuals with higher levels of educational attainment it won't attract the 'talent' that it will need for a dynamic economy. It really is a catch-22.
Q. What are the barriers, if any, to economic vitality in the region?
MH: Attracting highly skilled workers for jobs in IT, aerospace, engineering and high-tech manufacturing continues to be a major concern of larger employers on the Seacoast. Rising health care costs are also cited as a major concern for employers.
TM: Our main barrier is housing. We need more affordable housing.
DB: The barriers to long-term economic vitality are infrastructure, aging and retaining the uniqueness of the Seacoast. If we do not have good roads, an available local workforce and work hard to retain our uniqueness, we will suffer.
BO: As long as the Seacoast maintains its quality of life advantage, and the state remains committed to a low taxation philosophy, the Seacoast will retain its economic vitality. Although the high cost of housing and declining youth work force will be our biggest threats to maintaining the Seacoast's economic vitality.
BG: One threat is that the region becomes less attractive to talent – that would occur if communities stopped being concerned about their services and amenities, but it could also occur if the 'value proposition' of the region declined – if housing and other living costs get so high that the basket of services and amenities that those costs are purchasing isn't worth the price. It is a mistake to just look at housing prices to determine if a region is in danger of having housing prices disrupt economic vitality. You have to look at what you are purchasing in services and amenities… Communities that think that they only need to appeal to businesses will find they have full commercial and industrial buildings [with] the individuals that work in them living in more desirable communities.
Q. What, if anything, should the region be doing to prepare for rising sea levels and other affects of climate change?
MH: According to Climate Central, even small amounts of sea level rise make floods more common by adding to tides and storm surge. They estimate risk by combining local sea level rise projections with historic flood statistics from the NOAA Water Levels Station in Portland, Maine, 45 miles from the center of Dover. Based on the National Climate Assessment intermediate high sea level rise scenario, they project 3.5 feet of rise locally by 2100. Floods above 5 feet pose significant risk, and values show there is a 100 percent risk of at least one flood exceeding 8 feet by the end of the century. Dover takes this very seriously and has convened hundreds of residents and municipal leaders to raise awareness, discuss how to incorporate the data into municipal decision-making and build the city's capacity to mitigate the potential impact.
DB: I think those discussions are taking place. Unfortunately, this "condition" is sneaking up on us and will only rise to our scrutiny when it reaches disastrous proportions. Moving people to action will be the issue for the coming years.
BG: Sell your oceanfront property, and 'buy and hold' inland property. I hold out little hope that there will be collective action to address the issue until some properties start going 'underwater.' We still haven't gotten to the point where the consensus view of climate scientists – that change is occurring – has been accepted. Until it is, nothing much will happen. Each community should interject the rising sea level concern into every possible community planning discussion that occurs between now and when rising levels move higher on the public agenda.
TM: We should be keeping a close watch and communications with other regions facing similar circumstances and learn and collaborate with them.
Q. How do you see the Seacoast economy faring over the next 12-24 months?
MH: I think we will continue to see business activity expanding and growing steadily. According to Economist Brian Gottlob, the Seacoast accounted for a higher percentage of the state's net job growth between 2003 and 2012. The percentage of the state's net job growth accounted for by the Seacoast was 70 percent. Almost half of the net job growth in New Hampshire, among workers with a BA degree, occurred in the Seacoast.
BO: I see the next 1-2 years experiencing strong economic growth. Now that the financial crisis is in our rearview, I am seeing individuals and businesses losing their timid-ness in regards to spending or business expansions. This 'pent up demand' will fuel growth for the foreseeable future.
TM: I see the Seacoast economy as the epicenter for business in New Hampshire. Pease International Tradeport, in Portsmouth, creates almost $600 million in wages and that's just one segment of the Seacoast community.
BG: The Seacoast will outperform the economy of the rest of the state. As I have noted and written about in the past, I believe the focus of economic activity in New Hampshire is shifting from the Manchester/Nashua corridor to the Seacoast. More of the new, the innovative, the higher value economic activity is occurring in the Seacoast all the time. It is still a much smaller economy than the Manchester/Nashua corridor, but it is gaining a larger share of the pie all the time.