A Pup's Love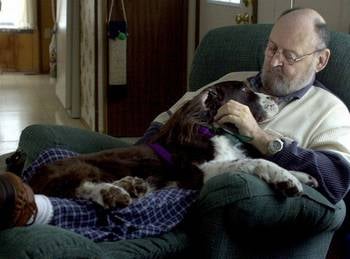 Rene Rousseau was ready to call it quits in July.
The 61-year-old considers himself good at withstanding pain, but enough was enough.
The Milford resident was receiving up to six shots of morphine a day to cope with the pain caused by his failing heart. The medicine left him groggy and unable to speak, think or eat, he said. When he wasn't doped up, there was the ever-present fear of death to contend with.
Then Rousseau met Mitch through Home Health & Hospice Care's pet therapy program. The English springer spaniel's weekly house calls soon started to help.
Rousseau's blood pressure dropped, and his chest pains became less frequent and less severe. His reliance on morphine lessened, and he reached a greater sense of peace and acceptance about his death.
A HELPING PAW
Now, when the pain hits, instead of panicking and calling the ambulance, Rousseau thinks of Mitch instead.
"I try to picture him here and it soothes me," he said last week, shortly before Mitch arrived for his weekly two-hour visit. "He's shown me the peaceful side of death. It's hard to explain how he did that."
Soothing pain and fear
"Rene's our best example of pain management," said Lynda Kelly, Mitch's owner. She has accompanied Mitch on visits since the hospice agency launched its pet therapy program in the summer of 2001.
Agency literature points to studies that show that animal-assisted therapy can provide health benefits due to the therapeutic affects of touch. The science underscores what any animal lover can tell you – that pets can be a source of great comfort to humans.
While not all patients experience as much pain relief as Rousseau, at the very least, the agency's five animal teams provide a diversion for those who have become inwardly focused due to pain, Kelly said. The animals help them focus outward again, she said.
Kelly sees the transformation when she brings Mitch to private homes and to the 10-bedroom Community Hospice House in Merrimack. When patients begin swapping stories about former pets, their happy memories soon lead to laughter, she said.
Such visits can be a welcome break in days often filled with fear and pain.
Mitch was a big hit recently when he visited the hospice house with fake reindeer antlers on his head. On Halloween, he paid a late-night visit dressed as a duck, perhaps the only species he harbors any ill feelings toward.
That night, he visited an insomniac who had been wheeled into the common area near the nurse's station because she was terrified of falling asleep in her room and possibly dying, Kelly said.
Mitch sat in a chair by her bed, and the woman began talking about her own dog. When she began weeping, "Mitch leaned over and gave her kisses," Kelly said.
When Kelly checked in on her later, she discovered the woman had fallen sound asleep.
A guide on the journey
Sometimes Rousseau gets severe chest pains when friends are visiting. They try to reassure him that he's going to be fine. He knows they mean well, but it irks him somewhat because he knows that someday soon, he's not going to be fine. It's a reality he's trying hard to deal with.
The problem with his condition – congestive heart failure – is that it gives him plenty of time to sit around and think about his death, he said.
Rousseau received his first bypass in 1986. He got his second in 1990, his third in 1995 and his fourth in 1997. That was also the year he lost his right leg from the knee down due to diabetes.
Eleven stents – or tubes – now work to keep his arteries open.
Bypass surgeries usually last 10 to 15 years, Rousseau said, sitting in a green recliner in his mobile home.
"My bypasses are starting to close up. Sooner or later that will cause a heart attack," he said. "That's why I'm a terminal patient."
Soon after he speaks these words, Team Mitch arrives.
Team Mitch is one of Home Health & Hospice Care's five animal teams. There's Coco the Pomeranian, Remy the yellow Lab, Clara the retired greyhound racer and Red Guy the Abyssinian cat. Each animal works in conjunction with its handler and a hospice volunteer, both of whom must undergo the hospice agency's 30-hour volunteer training course.
It's Kelly's job to help position and monitor Mitch while volunteer Marcia Donaldson stays focused on the big picture and checks in with Rousseau's primary caregiver, his wife, Nancy.
The visits are a blessing for her, too, because it gives her at least two hours when she's not worried about her husband, Nancy said.
Sometimes Rousseau gets down on the floor with Mitch. On this day, he pushes his recliner back and welcomes Mitch onto his lap. Then the love fest begins.
Mitch lies on Rousseau's chest and peers directly into his eyes. Rousseau begins talking to Mitch, asking him how he's doing as he strokes the velvety softness of the dog's head and long ears.
In no time, Mitch is emitting a low-pitched rumble of contentment just like a cat's deep purr. His eyes slip to half-closed.
"I feel his energy, his sereneness," Rousseau said. "I think Mitch knows what I'm going through."
Rob Wagner, the hospice agency's Community Information Specialist, who has come along for the visit, suggests that maybe Mitch is a guide dog for the journey Rousseau is now on.
"Yes," Rousseau said. "And he's making it a lot easier for me to go."
Lifetime of helping
Eleven-year-old Mitch has not had an easy life himself. Abandoned by a former owner, he was kept kenneled in the basement of a vet's office for more than a year before Kelly adopted him.
When she met him, he was fat, wild and ugly. As a social breed, the stress of isolation had caused him to lose most of his fur, she said.
The trauma did not destroy Mitch's nature, though. By the next year, he was certified as a therapy animal by Delta Society, a nationwide organization dedicated to improving human health through service and therapy animals. The group's Pet Partners program trains animals and their handlers to provide services for people in health-care settings, such as hospitals and rehab centers.
In addition to his hospice visits, Mitch serves as an icebreaker for children attending bereavement camps. He also worked with the Family Assistance Center in New York City shortly after Sept. 11 to help comfort grieving families.
Rousseau finds his connection with Mitch so meaningful that he wants to be buried with a photo of himself and the dog. For now, the framed picture stays within eyeshot of his recliner.
"I can't even put into words what this dog does for me," Rousseau said. "I don't even want to call him a dog."
Rousseau once commented that it would be nice to have Mitch at his side when he dies, and the hospice agency is committed to trying to provide that final wish, Kelly said.
Lynn Tryba can be reached at 594-6402 or trybal@telegraph-nh.com.