A new normal
N.H.'s economy is bouncing back, but to what?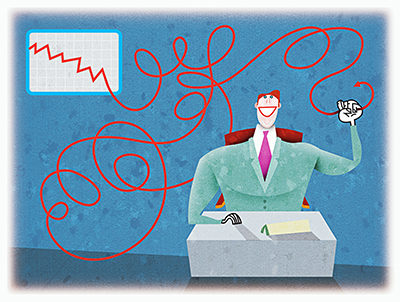 Is New Hampshire's economy recovering, or has it already recovered and we've awakened from a long slumber into a new reality?
When you look at the numbers, 2014 was the year that New Hampshire finally climbed back up to where it was economically in 2007, when the economy began sliding into the abyss.
"We are back from where we were," summed up Annette Nielsen, an economist with the state Economic and Labor Market Information Bureau at the New Hampshire Employment Security. "But the economy looks different."
The state regained all the jobs it lost during the Great Recession. Bankruptcies and foreclosures are at pre-recession levels. Home prices are almost where they were in 2006.
On the other hand, while there are the same number of unemployed people, half of them have been out of work for more than half a year, compared to 10 percent before the recession, Nielsen pointed out, and many of those are working in transient, part time or lower paying jobs.
So have we entered a new normal?
Wherever we are, it has taken us long enough to get there. The state and nation has been in recovery mode for more than five years, and none of those years went like gangbusters. Yes, 2014 was better than most, much to the relief of many businesses, but economists are not exactly enthused by it.
"We plodded along," was the best Russ Thibeault of Applied Economic Research of Laconia could say. "We have improved for the most part, but not as quickly as we would like." He added: "Looking forward to next year, much of the same."
In a report published in October, Dennis Delay, an economist with the New Hampshire Center for Public Policy Studies, said that the gross state product should more than double over the next five years. But don't get excited. That's an increase from just under 1 percent to just over 2 percent. Job growth? It was stagnant since 2008, but it should increase to 1.4 percent a year from 2014 to 2018, he reported.
Employment numbers
When it comes to jobs, New Hampshire's October unemployment rate (the most recent available as NHBR goes to press) stood at 4.2 percent, a full percentage point lower than the year before, the eighth best rate in the country (the federal rate being 5.8 percent) and the best rate in New England.
But the actual job gain has again been minuscule – a net 7,000 out of a state labor force of 740,000.
But there seems to have been turning point when it comes to the creation of new jobs, according to Delay. In 2012, two-thirds of the new jobs were low-paying; in 2013, two-thirds of the jobs created in 2013 were higher-paying.
Wages were still rising in 2014. The manufacturing wage, for instance, has been creeping up since October 2012, from $17.89 to $18.92. And from June 2013 to June 2014, "goods producing" (primarily manufacturing) wages rose by 2 percent.
Wages in the service sector went up 5.7 percent, though the manufacturers' average weekly wage of $1,133 was over $200 more than the average wage in the service sector. (The service sector covers a wide variety of occupations, from part-time food and hotel workers, who earn an average $338 a week, to IT workers and managers, whose average is over $2,300 a week.
Manufacturing and energy
The state's manufacturing sector is starting to make a comeback, after losing some 35,000 jobs since the start of the century.
But growth among manufacturers is uneven, so how the economy is doing depends on who you talk to and when you are doing the talking.
GT Advanced Technologies in Merrimack was flying high when it was rubbing shoulders with Apple over the summer, and then declared bankruptcy in the fall. And while there are more reports of expansion than contraction among manufacturers, both are going on quite frequently.
"There are wild swings up and down," said Geraldine Ferlins, CEO of Cirtronics Corp., a contract manufacturer in Milford. "Earlier in the year, we had layoffs. Now we have people on overtime and we are hiring again … it's been a rollercoaster."
But Richard Grosky, CEO of Tech NH, boasts, "Our last layoffs were in the early '80s."
The Merrimack-based manufacturer of plastic mold injections – primarily for medical uses – has grown sales nearly 30 percent over the past three years, though it has been cautious about hiring. It now employs 85 people, 10 more than three years ago.
In 2012, two-thirds of the new jobs were low-paying; in 2013, two-thirds of the jobs created were higher-paying.
Also uneven and changing, but still in a positive direction, are energy costs.
Yes, electricity prices nearly doubled for many last winter, but the low prices of natural gas during the rest of the year – combined with increased competition – has kept prices down for the most part, though that appears to be changing next year, given the steep increases sought by the two utilities that have filed rate requests at deadline.
But that might be offset, or maybe even eclipsed, by the suddenly plummeting price of oil.
The average price of gasoline in New Hampshire, for instance, peaked at $3.67 in New Hampshire earlier this year and has fallen to under $2.70. Such a drop affects everything from product prices to shipping to consumer spending to tourism and means an additional $700 million will be pumped into the state's economy, estimated Delay.
Retail and tourism
"The shining star is the fall of gas prices," said Nancy Kyle, president of the New Hampshire Retail Association. "You used to pay nearly $60 to fill up your tank. Now it's $30. That's a lot of discretionary spending in your pocket – in reality, but psychologically too."
It's too soon to render a verdict on the short 2014 holiday shopping season, or whether the shift of the kickoff date from Black Friday to Turkey Day earned retailers anything other then overtime wages to pay. But three-quarters of retailers in New Hampshire said in an NHRA pre-Thanksgiving survey that sales were the same or better than last year.
"I have to say this is the first consistent year we had since the Great Recession," said David Bellman, president of Bellman Jewelers in Manchester. "People are not hemming and hawing this year."
People are also less hesitant to travel and eat out more.
According to the state Division of Travel and Tourism's Travel Barometer (developed by Plymouth State University's Institute for New Hampshire Studies), in 2014, the state's tourism sector had the best winter, spring and summer in years. Visitor spending rose 8, 7 and 4.3 percent in those three quarters. Hotel occupancy was up 2.7, 1.3 and 5.9 percent over the prior year.
Most of the visitors are driving, perhaps because of the price of gas, perhaps because the state Division of Travel and Tourism Development, buoyed by legislation that ties its budget to rooms and meals tax revenues, has been doing more promotion of the Granite State in places like Boston and New York.
Year to date, rooms and meals collections have risen 3 percent statewide, but a lot of that wining and dining isn't just because of tourism, but the increase in discretionary spending among New Hampshire consumers.
"The gas prices have definitely helped the economy," said Tom Boucher, owner and CEO of Great NH Restaurants, which include T-Bones, Cactus Jack's and The Copper Door. "People are coming in more often. They are feeling a little more optimistic, a little more confidence."
Portsmouth, bolstered by the success of a fully booked Pease International Tradeport, is also booming, as a walk down Market Street any weekend night can attest. But people aren't just booking the Sheraton Portsmouth Harborside Hotel for pleasure, says Shari Young, chief operating officer of Northern Hospitality, which manages the hotel.
"The traditional company meeting is back," said Young. "The summer was particularly busy, because then businesses are bringing in clients for both entertainment and training."
Big-ticket items are also moving. There were some 327,000 vehicle titles issued as of October last year, an increase of nearly 7 percent.
"The gas prices have helped the economy. People are feeling a little more optimistic, a little more confidence."
"Consumers are quick to react to gas prices. They think they will have more to show for it," said Peter McNamara, president of the New Hampshire Automobile Dealers Association.
Also driving the increase is credit, which has become much easier to come by, so easy, in fact, that some people are comparing subprime auto lending to subprime mortgages, though McNamara thinks the comparison is misleading.
Investors are counting on values to rise in real estate, "and it's the total opposite when you are buying a car so they aren't going to fall into the same trap," he said.
Used car sales are back as well. For a while, used cars cost nearly as much as old ones. There had been a shortage of availability during the recession, because people hung on to their cars longer, and there wasn't much leasing. Now that leasing has been back for a few years, those cars are coming onto the market and the differential between new and used is returning to normal.
And there's no more talk of manufacturers pulling their franchises out. In fact, McNamara has heard that some plan to offer a few.
Real estate
The biggest ticket item of all, of course, is real estate. And here we see a little more caution after a robust 2013.
In the first 10 months of the year, sales actually decreased by a percentage point, while prices rose, but by a modest 3.6 percent, to $228,000 – still not quite where they were during the housing boom in the middle of the first decade of this century.
What's missing are first-time homebuyers, young people are now working part-time and lower-wage jobs and either living at home or renting in a scarce market that makes it difficult to save.
Margherita Verani, CEO of Londonderry-based Berkshire Hathaway Verani, which has seen sales increase by 13 percent this year, notices their absence.
"Many would just soon as live with their parents until they are thrown out when they have children," she said.
She said what's driving the market is a growth in home sales to people moving into the state from places like India and China, who are finding jobs in the health care and technology sectors.
"They are very well-educated, high-end buyers," said Verani. "Good clients. It shows the economy is becoming more and more global."
With the housing inventory starting to shrink, there has been an uptick in residential construction. Housing permits year to date are up a healthy 23 percent, which is helpful because much of the rest of the construction industry is still in the post-stimulus doldrums, with fewer roads, schools and sewage treatment plants funded during the panic of the recession. (Total contracts awarded are actually down slightly compared to 2013.) Thus, the number of construction jobs has only gone up 1 percent year to date.
But business isn't exactly booming for homebuilders, especially those that specialize in second homes.
"It's been a slow summer and slow fall," said Everett Pollard, president of Northcape Home Design, which builds around Lake Sunapee.
"It's not an exciting time on the big ponds," agreed Thibeault. "Our real state and construction in general has totally been in the doldrums."
Still, Thibeault said he would rather take this economy than the one the state was saddled with a half a decade ago.
"The cup is half full in my mind. You can't change the past. You can't go back to it," he said. "But it's a pretty vibrant economy right now."
Bob Sanders can be reached at bsanders@nhbr.com.