A matter of degrees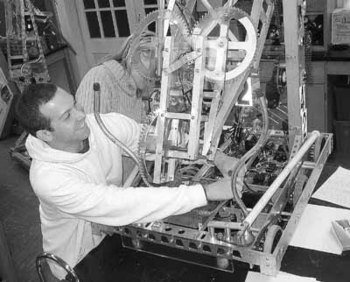 With a program that has quietly been graduating men and women with associate's degrees in engineering for more than 30 years, Daniel Webster College is taking a big step forward by expanding its engineering program to four-year baccalaureate degrees in both aeronautical and mechanical engineering beginning in the fall of 2005.
"This is a very important moment for Daniel Webster College and one of the most significant undergraduate curriculum decisions in the college's history," said President Hannah McCarthy, who said the two degrees "fit into the college's vision and our goals for our students."
She added that the college expects the program to "grow substantially over the next several years, and for exciting synergy to develop between the engineering, aviation and computer science programs."
There are 21 accredited mechanical engineering programs, two of them in New Hampshire. The only aeronautical programs in New England are at Boston University and MIT. With most engineering programs only available in university settings, it is clear that DWC will provide an attractive alternative for students.
The baccalaureate programs, which build on the courses currently being offered at the associate's level, will begin enrolling freshmen next fall. "We will also craft a transition program for this year's freshmen so that they have the option to remain for a bachelor's degree," said division chair Nicholas Bertozzi.
The vision for the DWC engineering program is for students to have an educational experience that is intense, personal and exciting, and that firmly grounds them in theory and design and makes them both competent and confident to take on any challenges they may face as a practicing engineer, said Bertozzi.
The DWC programs require a firm grasp of the theoretical underpinnings of engineering, the ability to apply the principles of design to open-ended problems and a concurrent hands-on design experience, he said.
The four-year aeronautical engineering and mechanical engineering curricula both contain a six-semester design sequence that emphasizes the use of hands-on design projects. These projects require students to work in and manage teams and apply the theories they are learning in the classroom to the solution of open-ended problems. Commitment and responsibility to the "design team" are required and continually emphasized, said Bertozzi.
As a result of this experience students gain both the confidence and competence necessary to tackle open-ended design problems and to excel in a team environment.
"They will be able to learn quickly and efficiently and to think strategically about the multiple issues involved in a project. We believe that this is of critical importance for today's engineers," he said.
For Nashua aeronautical engineering major Chad Hebert — who claims to have always liked taking things apart and putting them back together to see how they work and how he would improve the design — there is a lot at Daniel Webster's engineering program attractive to potential students.
"The best attributes are the professors, small class sizes, a team environment and the equipment and facilities, including a machine shop. We use it right away for our engineering design project in the first semester and every semester after that."
Added aeronautical engineering sophomore Sonja Crowder, of Scotia, N.Y., "I love being able to get into the shop and work on a project each semester." The theoretical aspects wouldn't be as straightforward to comprehend if "I didn't have the chance to apply them."
Despite a national female enrollment rate of 15 percent in engineering programs, DWC has had a history of attracting women at a pace that's nearly double that average.
In addition to providing additional opportunities for students, the new four-year engineering majors give Daniel Webster an opportunity to further serve as an economic catalyst for the region, said McCarthy.
"We believe that the kind of programs we have developed, sited at a small college and focusing on mastery of theory and practice, and offering features not found in larger programs, will succeed and flourish," McCarthy said. "Our engineering graduates will have the experience and confidence to make tremendous contributions to their field."
For more information about the engineering baccalaureate degree programs, visit www.dwc.edu, call admissions at 603-577-6000 or Professor Nicholas Bertozzi, chair of the division of engineering, mathematics and science, at 603-577-6640.