A home for the holidays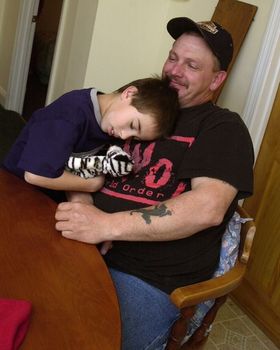 NASHUA – This definitely was a Christmas they won't forget.
There's a Christmas tree in the corner with ornaments and a red tree skirt. When a reporter dropped by Wednesday, Dawn Marrotte was wrapping presents in a room with the door shut, helping extend the suspense for her three children.
However, much has changed for this Nashua family in just one month.
The week of Christmas, the family of five was settling into a new home and following up on phone calls from people offering help.
The family's Worcester Street apartment burned in a fire earlier this month that damaged the building's four apartments and left eight homeless. One of the tenants was charged with arson in connection with the fire.
After the fire, the family stayed in Motel 6 and with assistance from The Salvation Army, recently moved into a three-bedroom apartment.
Ray Marrotte had been in his old apartment just once since the fire. Shortly after the fire, he was able to go back in and round up some of the family's Christmas presents.
Most of them, except for some clothing, were salvageable, he said.
"That's what we were going after, the presents," he said of his trip.
Several of the presents were wrapped in plastic, helping protect them.
One present that was saved was a picture of Dawn and her three children, Kaitlin, 13, Matthew, 11, and Ray Jr., 9, that they gave Ray. The family only had to replace the frame.
"We snuck out of the house and took the picture," Kaitlin said.
"I just got the key today," Ray said Wednesday. "I will be going in to see."
He wonders whether some items, such as pictures, were destroyed. Parts of the apartment sustained heavy damage from smoke and water.
"I'm not bringing stuff that smells like smoke," he said.
Being burned out of one's home at any time, but especially around the holidays, is probably everyone's worst nightmare.
But something happened to Ray and Dawn Marrotte, 41 and 34, and their children after the fire. People started giving – generously – and helping the family start a new home.
After the fire, students on Dawn's bus route raised money and gave the family gift certificates and food certificates.
She's a bus driver for First Student Transportation and has worked for the company for about two months. Her route includes Nashua Catholic School and Elm Street Junior High.
Dawn was working when the fire broke out and she remembers seeing the smoke from her bus route. A bus dispatcher broke the news to her.
Dr. Crisp School, where the couple's son attends school, gave the family a Christmas tree and stand. Friends gave them ornaments. A teacher at Bicentennial School gave them a television and computer desk.
The firefighters from the Lake Street firehouse gave a food basket with a turkey and all the trimmings.
Sitting at the kitchen table, Ray rattled off a list of things the family has received, such as new pots and pans, silverware and a washing machine.
"I'm going to cry with that one," Dawn said of the washing machine.
There are still things they need to pick up from friends and well-wishers, such as a bed frame for Kaitlin.
On Monday, the couple's youngest surprised them with his own gift. Handing his mother a package, Ray Jr. insisted she open it.
Inside was a small reindeer ornament made out of clothespins.
The kids seem to have handled the transition well, Ray said.
"They didn't seem to take it too hard . . . except for the birds," he said.
The family's two pet birds died in the fire.
"We're not quite settled," Ray said. "It's going to take a little time. Everything's new . . . it doesn't feel like home.
"The stuff we lost," he said. "I'm having a hard time letting it go."
Things have been hectic this month, what with moving into a new apartment, making calls and picking up various items. On Christmas Eve, Ray was getting ready to visit the old apartment, Dawn was wrapping presents and Kaitlin was in her room.
A tinsel garland was hanging on the wall and a box of ornaments sat on the bed, while Kaitlin meticulously attached different ornaments to the strand.
"I've done a lot of running around," Ray said.
There's been enough time to reflect on peoples' generosity.
"I can't say enough to everyone," Dawn said. "Everyone's been so nice."
"I never realized how good of a community Nashua was until this," Ray added. "I want everyone to know I appreciate what they did for my family . . . It's overwhelming."