A citizen extraordinaire
Remembering Fred Hall, who epitomized good citizenship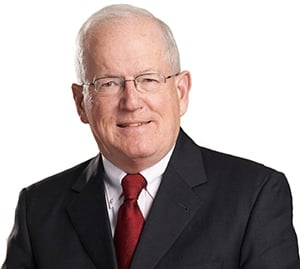 On Jan. 20, Fred W. Hall Jr. died in Rochester at age 96.
Fred Hall was an extraordinary New Hampshirite, man and attorney. He epitomized good citizenship for his long life and was active and cogent to the end. His life exemplified involvement in the major events of his state, country and world during his life.
Born in Franklin in 1920, graduated from high school in Nashua in 1937 and from UNH in 1941, Hall distinguished himself at each step of his education, being the class orator both in high school and in college, and a leader in law school.
At UNH, he was involved in many activities, including ROTC, which led him to service in the Army during World War II and Korea. Later in his life, he wrote a history of his World War II experiences that demonstrated that he was in the middle of things as an officer in the 1st Infantry Division, fighting in North Africa, Sicily and Europe, including Normandy on D-Day.
His many medals attested to his courage, and he continued in the military until 1966, when he retired from the Reserves as a lieutenant colonel. He was honored by the French government for his service.
After returning to the U.S., he went to the University of Michigan Law School, graduated in 1948, and was admitted to the New Hampshire Bar the same year. He and his wife were married in 1950 and raised three children. They were married for 54 years when Jane died in 2004.
Moving to Rochester, he was associated with his law firm for 60 years, with the firm changing its name often from the original Cooper, Hall and Cooper
firm.
As a citizen, Hall was active in mainstream Republican politics, serving on the Executive Council for one term in the early 1960s and as Strafford County and City of Rochester solicitor and a delegate to three constitutional conventions.
He exemplified the citizen/lawyer/statesmen who led the state often during the period, among whom were Kimon Zachos, David Nixon and many others.
He was a member of the American Bar Association and the NH Bar Association, which he served as President. He was a founder and fellow of the NH Bar Foundation.
Most notably, perhaps, he served his alma mater as a member of the alumni board of directors and as a trustee of the University of New Hampshire for many years. He was chairman of the board during the tumultuous period of the late 1960s, when he provided calm guidance to President John W. McConnell.
I met Fred Hall when I became the first student representative to the board of trustees in 1969. He was gracious, kind, understanding and provided me with a great education on the operations of the board during that period. He also represented what was good about attorneys to a student considering law school.
Later, I had the opportunity to work with him when he chaired a subcommittee of the Task Force on Government Organization established by the Legislature at the request of Gov. Walter Peterson. Our subcommittee examined the structure of the executive branch of state government, including the number of departments, the role and function of the Executive Council and other matters. Hall was a steady presence, guiding the committee to make only recommendations that had the practical and political chance to be adopted.
A model attorney, Hall represented scores of New Hampshire people and businesses, large and small, with skill, good judgment and integrity until he was well into his 80s.
One example of Hall's integrity came early in my legal career when I was asked by the trust department of Amoskeag Bank to handle a matter on its behalf that had become contentious. This matter involved a trust that Hall had drafted and advised and could have become a major dispute.
At the outset of the matter, Fred Hall called me and said, "Brad, notwithstanding the fact that we are friends, if I screwed up something in this, I want you to point that out and recommend the appropriate resolution, regardless of whether it reflects well on me or not."
The matter was resolved. Hall had done nothing wrong, but his call and his comments stuck with me as proof of his integrity and strength of character, and as a guide for the future.
That was the kind of person he was.
And the kind of people we all should be.
Brad Cook, a shareholder in the Manchester law firm of Sheehan Phinney Bass & Green, heads its government relations and estate planning groups.