A brief life, a lasting legacy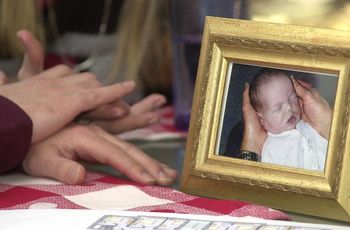 WINDHAM – Justin, Kaley and Brittany Missert are 6-year-old triplets, and like other kids, they love to receive balloons. It's what they do with the balloons that makes them different.
"We let them go so Devon can play with them," Justin says.
Devon Nicole Missert was the children's younger sister. She died only five days after birth. She would be 4 years old now.
Devon's parents, Tom and Deanna Missert, realized after Devon's death that they could help other families going through hard times.
Fund raiser
They decided to take action and are opening the Devon Nicole House in Boston.
The house, a nonprofit charity, will provide families with children at Children's Hospital some comfort and an economical place to stay.
The house is scheduled to open in late February or early March. The Misserts are raising funds for the house's 2004 operating costs.
A family tragedy
The Misserts lost their daughter after Deanna carried her for 40 weeks. The baby was healthy throughout the term.
On Friday, July 30, 1999, Deanna had induced labor at 5:30 a.m. at Parkland Medical Center in Derry. Seven hours later, Deanna went into heavy back labor. Problems began to occur.
Deanna's uterus burst during the labor. Devon Nicole went into fetal distress at about 2:30 p.m., and at 4:54 p.m. her heartbeat was lost.
Tom prayed all afternoon. In his prayers he said he would take his daughter any way she came to him; despite any problems she had, he would love her.
An emergency Caesarian section was performed and Devon was born at 5:16 p.m. The baby had been with out oxygen for more than 20 minutes, but doctors were still able to revive her.
The Misserts were told Deanna should have lost more blood during labor, but Devon stayed in the lower end of the birth canal, so the pressure her body made slowed the bleeding. Tom says he believes Devon saved her mother's life that day.
After doctors stabilized Deanna and Devon, they transferred them to Children's Hospital at Dartmouth in Hanover.
It was there that the Misserts learned Devon had no upper-brain activity because she had gone too long without oxygen.
Doctors told the Misserts that Devon would not live long, even on life support. The couple had to made the heartbreaking decision of whether to take their daughter off the support.
The next morning Tom had a dream. In the dream Devon told him she wanted to help other children.
A choice to help
Tom and Deanna decided to look into donating Devon's organs. They found there is great need for heart valve donations to go to children with congenital heart defects.
On Wednesday, Aug. 4, Devon died after she was taken off life support. Her heart valves went to two children with congenital defects at Children's Hospital in Boston.
Devon was alive long enough to be held by her parents and grandparents. Her death was devastating for her family. Tom and Deanna say they think about her every day.
"There is still pain in my heart," Deanna says.
After Devon's death, Tom and Deanna asked themselves "What if . . ." and "Why?"
They both had problems sleeping at night.
One night while the couple was awake Deanna asked out loud, "Why did this happen?" She then turned on the television. A program about people using property in different ways came on.
That night, the Misserts began to think about helping others in Devon's name.
When Deanna gave birth to the triplets at Children's Hospital at Dartmouth, Tom had stayed at David's House, a private, nonprofit corporation that offers families with children at the hospital a place to stay for $10 a night.
At the time, Tom was shocked to find a place to stay for so little money.
"I was grateful for a place so close that wasn't asking for $200," he says. "It totally eased the burden."
The Misserts decided to go to David's House to ask if they could help. They asked the executive director, Jane Degange, if they could donate to the house.
The Misserts say she told them, "No," but there was a critical need in Boston for a house like David's House.
Degange, who will not take credit for the idea, says, "When we have a family from here transfer to Boston, they have no place to stay."
Needing a place to stay
According to Mary Shay, public relations representative for Children's in Boston, the average room rate for hotels near the hospital is $180 per night, including a discount for families with children at the hospital.
In 2003, 14,107 patients with U.S. addresses outside Massachusetts were at Children's in Boston, she said.
Current options for families who want to stay in the hospital are to sleep on pullout chairs in the child's room (only one parent per night can stay in the room), a chair in the waiting room or to enter a lottery for a cot on which to sleep. There are also nearby homes available for transplant or cancer patients and their families.
"It's not going to solve the shortage (for places to stay), but we're making a dent," Shay says.
The Devon Nicole House would give families a place to stay for $50 or less per night, depending on the family's income. Along with 14 private rooms for families, the house will have a kitchen, living area, shower area and Internet and telephone access.
The house is about two blocks from Children's.
The Misserts will hold a Valentine's Dinner on Saturday, Feb. 14, to celebrate the Devon Nicole House opening. Feb. 14 is also National Congenital Heart Diseases Awareness Day.
An anonymous donor has offered to match the funds the Misserts are able to raise, up to $100,000. The offer is extended until the opening of the Devon Nicole House.
So far, the Misserts have raised $18,000. Operating costs for the house are expected to be $80,000 per year. The Misserts also have $150,000 left to pay on renovation costs for the house.
The Misserts hope to raise enough funds to match the silent donor's offer. They will also hold the third annual charity golf tournament for the Devon Nicole House in June.
The Misserts believe that to help other children and their families is what Devon would want.
"She's been guiding us every step of the way," Tom says.
Andrea Bushee can be reached at 594-6860 or busheea@telegraph-nh.com.