2018 Legislative Roundup
Reviewing the winners and losers of the session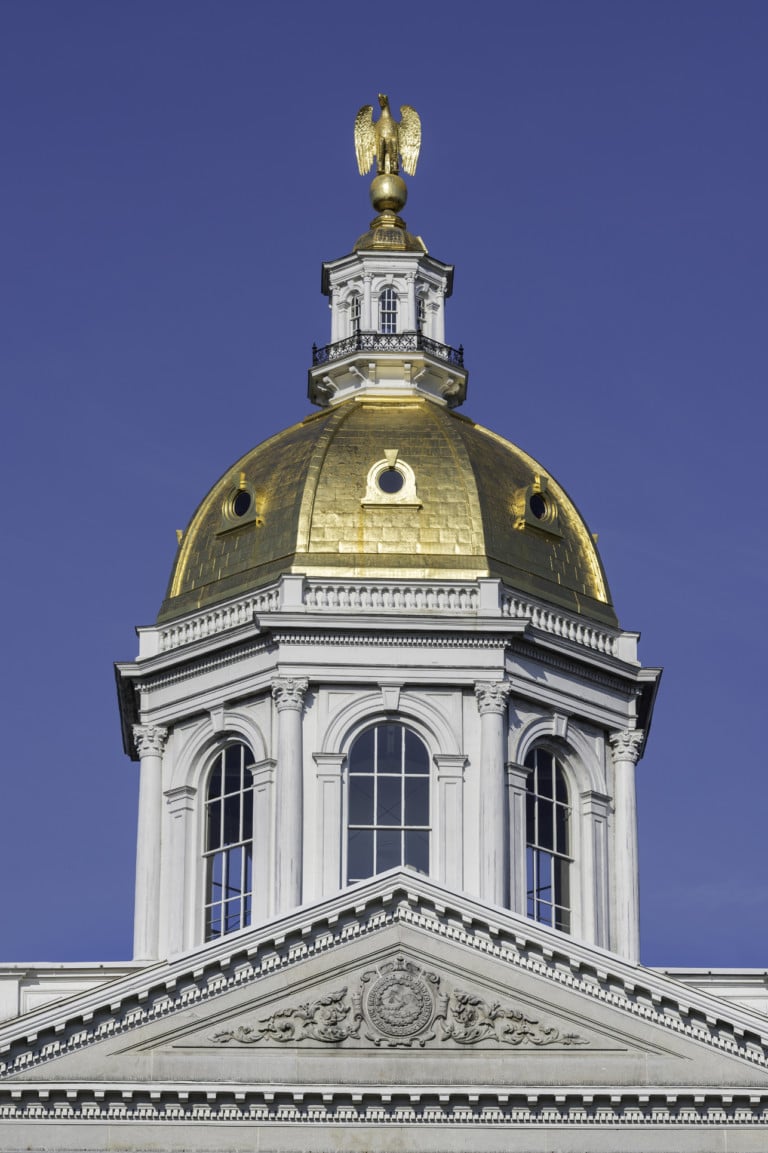 Last session, New Hampshire lawmakers voted to extend Medicaid expansion for at least 2 years; prohibit discrimination against transgender individuals; mandate universal testing of all children for lead poisoning; and set up tax and student loan incentives to help jump-start a new regenerative medicine industry. They also passed 165 bills affecting New Hampshire business.
Yet, "in many ways it was a quiet session," said David Juvet, senior vice president of public policy for the Business and Industry Association of New Hampshire with no sense of irony. "We spent more time trying to kill bad legislation rather than work on good legislation."
Cathy Corkery, director of the state chapter of the Sierra Club, will give you the same perspective. "It was a tough year for the environment, but it wasn't all bad. What was really remarkable is what didn't pass."
Similarly, Judy Steadman, state policy director of the AFL-CIO, said, "We were able to hold a ground but we didn't make anything in the way of progress."
Lawmakers did pass a lot of little things, and a few big things. Here are the highlights:
Taxes
Nearly all bills that would have cut taxes or given tax breaks failed, including one that would have increased interest and dividends tax exemptions by rolling back the research and development tax credit. The state chapter of the National Federation of Independent Business supported the former, and the BIA opposed the latter.
Targeted tax credits for job training to alleviate the labor shortage didn't make it either, but lawmakers did pass a bill with the same goal in mind.
House Bill 590 would have added to a fund to pay off healthcare providers' student loans if they committed to practice in the state and another that would prevent non-compete contracts, allowing nurses that leave one agency or institution to work for another in the same area. (The NH Hospital Association opposed this, arguing that it interfered with contracts negotiated in the free market.)
Senate Bill 564 sets up another loan fund for people working in the new regenerative medicine industry beginning to spring up in the Manchester Millyard through the Advanced Regenerative Medicine Institute. The bill also would give a 10-year break to businesses that put three-quarters of their resources into a regenerative medicine-related business. It was the only tax break to pass.
Another tax measure accelerated by half a year business tax reductions already put in place.
Energy
Attempts to pull out of Regional Greenhouse Gas Initiative failed, as did an attempt to freeze the renewable energy portfolio standard. Lawmakers did pass SB 454, an attempt to increase fivefold projects that could use net metering, but that was vetoed by the governor who labeled it a subsidy. That put a hold on larger solar energy projects planned by municipalities and businesses.
"It is not a subsidy. We are properly compensating for the energy they are producing," said Brianna Brand, policy director of the NH Sustainable Energy Association. Brand said the Public Utilities Commission approved the net metering rates with the intention of avoiding a subsidy, "which debunked the subsidy argument."
The BIA, which had expressed concerns about those net metering rates, is now reconsidering its position and therefore did not press for a veto of the bill. But it did oppose SB 365, which was vetoed by the governor. That measure would have guaranteed above-market rates for the state's bioenergy plants. Those rates were "a subsidy for the North Country at the cost of everyone else," said Stefanie Lamb, the BIA's vice president of public policy.
After the veto, three biomass plants shut down, and that caused the state's forestry industry to put pressure on lawmakers to overturn the veto, arguing that it could cost the forest industry nearly a thousand jobs. That's a more concrete loss than the net metering's bill tentative gain.
Sununu did sign SB 577, which continues subsidizing the Burgess BioPower plant in Berlin for three years. The bill also includes provisions that would help oil importers like Sprague Resources and landfill owners that produce energy with methane gas.
Other energy bills also became law. Several would remove technical obstacles for group net metering. Others aimed at more public oversight of energy policies that have been purview of the PUC.
Finally, two — among many — bills involving perfluorochemical groundwater contamination passed, though both were "watered down," said the Sierra Club's Corkery. One would have the state Department of Environmental Services set contaminant limits, but not legislate what those limits are. That was a relief to the BIA, concerned "about the cost associated with businesses using or discharging these chemicals, when the science is still emerging," said Lamb.
Health
An attempt to make it easier to form health insurance purchasing alliances failed, as did an attempt to allow foreign graduate medical students to practice in New Hampshire, but those are relatively minor compared to what passed.
Medicaid expansion, last session's most explosive issue, passed overwhelmingly with little debate, and not coincidentally with the full support of much of the business community. New Hampshire paid for its share by raiding the state's Alcohol and Drug Abuse Prevention and Treatment Fund, but the legislation also counts on savings expected by moving recipients from the private individual insurance market to Medicaid-managed care.
Few objected to work requirements tied to the Granite Workforce pilot program, with exemptions for the disabled, parents of young children, volunteers and those in training programs.
Such requirements "would not seem to be a barrier to care," said Steve Ahnen, president of the NH Hospital Association. "The bill is incredibly important. We can make sure that people can access the right care at the right place at the right time."
"The bigger picture is that thousands of people remained insured," said Peter Bragdon, a former Senate president and now lobbyist with the NH Medical Society.
Another major bill, HB 1817, funds hospitals' uncompensated care — at least enough of that uncompensated care to fend off another legal battle with the state over the issue.
Then there was a bill that prohibited the practice of balance billing, whereby a hospital patient receives an unexpected invoice from an out-of-network specialist, like a radiologist or an anesthesiologist.
Lawmakers also passed a number of bills that helped local pharmacies. Two made it easier to dispense birth control and there were several bills relating to pharmacy benefit managers. One prevents them from requiring pharmacist accreditation and the other outlaws contracts preventing a pharmacist from telling customers that they can save money without going through the PBM.
Labor
A Family and Medical Leave program, paid for through a payroll deduction, did not make it to the governor's desk despite being passed by the House three separate times during the session. A bill that would have required employers to give workers advanced notice of their hourly schedules also failed, but a measure adding sexual identity to anti-discrimination laws was enacted.
Also passed was HB 318, allowing teens to work longer hours during shortened school weeks. "That was a big victory," said Henry Veilleux, a lobbyist with the NH Lodging and Restaurant Association.
Also, contractors who break labor laws may no longer be able to get a state contract thanks to the passage of HB 1623.
Real estate/construction
One of the biggest disappointments for business groups was the defeat of a bill that would have set up a state housing appeals board. Another bill that didn't make it despite support would have given a real estate transfer tax break to first-time homebuyers.
SB 247 did pass and now there will be mandatory lead testing of all children under six, and action levels have been lowered.
For the construction industry, perhaps the biggest win was the regulatory reform bill — HB 1104 — which speeds up wetlands permitting, essentially allowing contractors to hire an expert to certify the process for smaller projects, freeing up staff to speed up permitting of larger projects, explained Gary Abbott, executive vice president of Associated General Contractors of New Hampshire.
Transportation
Lawmakers again rejected increasing registration fees for low-mileage vehicles but they did pass two electric vehicle bills — providing signage, ensuring brand neutrality and setting up a funding mechanism for EV stations. They also passed a bill that set up regulations for testing of driverless cars, though it was vetoed by the governor at the beginning of July.
A priority of AGC-NH — an additional $30 million to repair red list bridges, both local and state — was passed. And for those who own a plane, the state slashed high registration fees that opponents said were causing owners of new aircraft to base their corporate jets in Massachusetts. But the bill did increase fees for smaller, older aircraft.
Pot and gaming
Lawmakers held off legalizing marijuana, but they did increase the number of medical cannabis dispensaries in the state from four to six. And while large casinos got nowhere, lawmakers increased the maximum bet allowed at charitable casinos from $4 to $10.
"It's huge," said Rick Newman, a lobbyist for the charitable gaming industry. "It's put us head-to-head with Foxwoods for that middle-reach customer."
Bob Sanders can be reached at bsanders@nhbr.com.