2015 Business Excellence Winner: Tim Martin of Neoscope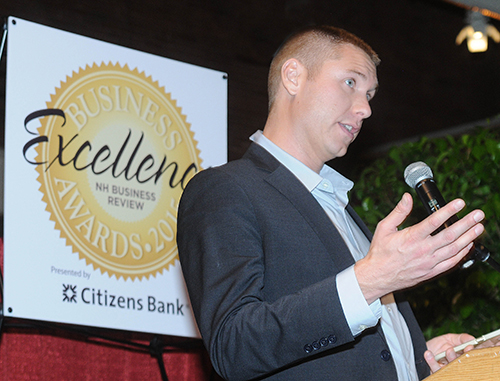 Nominated by: Julie Comeau of Neoscope
Tim started Neoscope in 2006, focusing on proactive IT services rather than the traditional reactive model that profits from clients' pain. In the process, Tim turned down countless businesses to focus on a business model that truly aligned with the goals of each church, nonprofit, town, school and small to medium sized business he worked with.
Without any connections on the Seacoast, Tim moved the company from Derry to Portsmouth, and managed to grow the company from two to 15 employees and from 10 to more than 60 accounts in just four years. On average, Neoscope has experienced 35 percent year over year growth, although 2015 is seeing over 100 percent growth, with all business coming from referrals.
Tim also has put together a 30-plus page book that outlines why culture and organizational health is number one in business. The book outlines Neoscope's mission and vision as well as its core values, which are loyalty, integrity, nurture, dream and appreciate. Have you figured out the acronym? It's LINDA, Tim's mom, who passed away from cancer last November.
Despite the tough economy, personal tragedy and restrictions from a firm commitment to stand true to his proactive business model, Tim has not only grown a successful and profitable business that creates jobs in New Hampshire, but also won numerous awards highlighting his achievements. For two years in a row he has been named among the Top 250 Managed IT Executives in the World by MSPmentor.
Tim has also grown an organization of community-focused individuals. Neoscope staff members volunteer and the company sponsors or donates a number of organizations including St. Jude Children's Research Hospital, New Heights, Dana Farber and the Seacoast Community School.
As one judge commented: "Who doesn't love a business owner whose core business values honor his mom!"