2015 Business Excellence Winner: Mel Gosselin of the New Hampshire Food Bank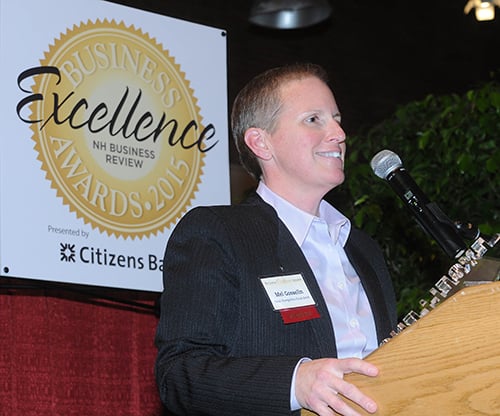 Nominated by: Arthur Sullivan of Brady Sullivan Properties
Mel Gosselin joined the New Hampshire Food Bank as executive director in 2003. At that time, the Food Bank distributed 2.5 million pounds of food in the calendar year. In 2014, distribution exceeded 11 million pounds.
Next year, the number will be higher, as the Food Bank becomes the first in the Northeast – and second in the country – to operate its own food-processing plant, thanks to a $5,000 grant from the Entrepreneurs Foundation of New Hampshire, an initiative of the New Hampshire Charitable Foundation.
It's been part of the plan since Mel set her eyes on the 60,000-square-foot warehouse the Food Bank moved into in 2010.
Mel has taken the initiative to move the Food Bank toward self-sufficiency. Not only will the nearly 3,000-square-foot processing plant package food for pantries across the state, but it will also manufacture products for retail under the label "Food Factory," to be sold at Ocean State Job Lot.
The new plant will also employ three individuals on a rotating basis, providing job training and experience to help individuals advance to other jobs and careers.
As her nominator noted, Mel doesn't only strive to feed the hungry but also to identify and eliminate the root causes of hunger in the state.
Other innovative programs she founded are the Mobile Food Pantry, which delivers nutritious food to people in need; Recipe for Success, the Food Bank's outreach program that includes a culinary job training program for those who are unemployed and underemployed; a fresh rescue program that recovers meats from grocery stores; and a production garden.
One judge wrote: "Mel has taken the cause of hunger in New Hampshire to a very public level. She has shown just how much one person can positively affect a critical issue."