2015 Business Excellence Winner: Mark Stebbins of PROCON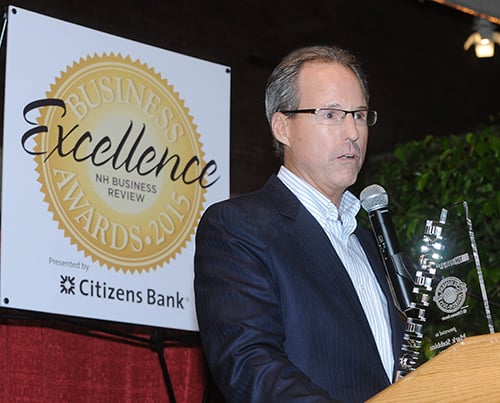 Nominated by: Tracey Pelton of PROCON
When Mark Stebbins took over the family business started by his grandfather in 1935, it was primarily a construction services firm with less than $5 million in sales. Along with president John Samenfeld, Mark transformed the company into the largest design and construction firm in the Northeast, with annual revenue over $200 million.
In the 1990s, Mark realized the potential and benefits to his clients of having all his construction resources under one roof. Beginning the move toward the design and build model, he launched an architectural department with four employees. Twenty years later, this January, PROCON held a ribbon cutting at its newly expanded office space at its headquarters that houses 50 design professionals and 140 construction professionals.
Under Mark's leadership, PROCON has forged a niche-reputation for completing projects on time, under budget and of excellent quality. That is what has given PROCON an approximately 95 percent repeat business rate, a statistic virtually unheard of in the construction world.
Even though Mark has greatly expanded PROCON's work outside of New Hampshire and across the region, he has always focused on giving back to the Hooksett community.
PROCON is a major supporter of Child and Family Services of New Hampshire, sponsoring the organization's annual fundraiser, "Concerts for a Cause" for the past 15 years. And last year, the Stebbins family challenged the local community to a $25,000 match for every dollar pledged over the year to Granite United Way.
Mark is a "rare commodity in the business world," his nominator writes. He is "a CEO who prioritizes the welfare of his employees, often recognizing them with informal public praise for a job well done." Cheerily greeting employees in the hallways by name, Mark thinks of PROCON as one big happy family, and it shows.