2015 Business Excellence Winner: Lisa DeStefano of DeStefano Architects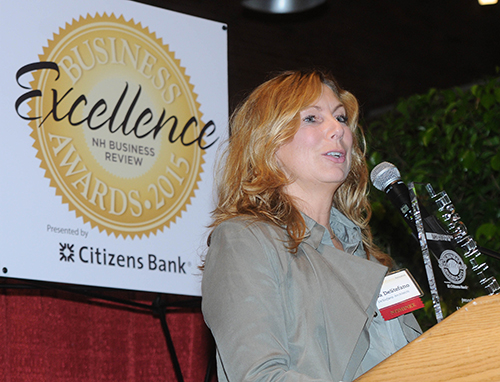 Nominated by: Scott Tranchemontagne of Montagne Communications
A native of Portsmouth, Lisa DeStefano's hometown is filled with her projects. She hit the 100 mark a couple years ago, and has more extending throughout New England.
To name a few, DeStefano Architects or DA has transformed raw space into the elegant Harbour Place Condominium; designed the outdoor foyer for patrons to gather before a show at the Music Hall; and drafted the renovation of the historic cigar shop Federal Cigar to include a smoking lounge.
Lisa is well known for her expertise in the state's codes and regulations. And her and her team serve as advocates for projects to City Boards. When a zoning change required a redesign of a R.J. Finlay & Co. project midway through – twice – DeStefano Architects rolled up their sleeves and redesigned both times.
As her nominator wrote: "The company's successful approach to resolving challenges relies on empowering staff to work together with leadership to develop solutions during points of uncertainty."
Lisa and her team also exhibit perseverance. In the midst of the recession, as the number of projects fell, DeStefano Architects was forced to cut its staff from nine to six. It seemed inevitable that one more layoff was needed, however Lisa's staff worked together to find a solution. They offered to work four-day workweeks and accept cutbacks in certain benefits. In 2011, the economy took a positive turn. This year DeStefano Arhitects is celebrating is 20th year, with 15 employees.
DeStefano Architects has been involved in designing and collaborating on dozens of residential and commercial projects in one of the most beautiful and challenging cities to incorporate new buildings into a historic location.
As her nominator put it: "We are very fortunate that Lisa's fingerprints are on the future of our community."