2015 Business Excellence Winner: Jim Reidy of Sheehan Phinney Bass + Green in Manchester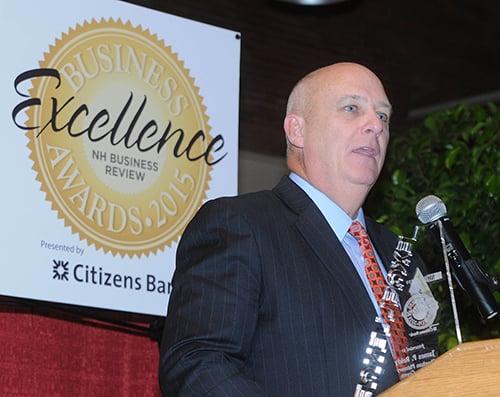 Nominated by: Kelly Trudel of Sheehan Phinney Bass + Green
Over the past 25 years with Sheehan Phinney, Jim has demonstrated a clear expertise in and impact on labor and employment law, in the state and beyond.
He is an industry expert who has been quoted in the Wall Street Journal and the Washington Post, and is a sought after speaker at many HR seminars and training sessions through out the country. Jim most recently was the featured presenter at the SHRM Legislative Conference in Washington, D.C. and SHRM Annual Conference in Las Vegas.
"You would be hard pressed to find a human resources professional in the state who hasn't worked with Jim or heard of him and his outstanding reputation," his nominator writes. "His combination of tirelessness, creativity, passion and humor is a real gift to the firm's clients and the region's entire business community."
At Sheehan Phinney's annual Employment Law Review and Update, now in its 27th year, Jim has not only been a presenter and moderator, but his innovative ideas have helped to grow this seminar to the premier annual event it is today.
Nearly 20 years ago, Jim co-founded the email HR discussion group NHLABORNET, which has over 1,600 active members, many of whom are well beyond the Granite State. Jim is also the creator and managing editor of Good Company, Sheehan Phinney's quarterly newsletter, which features articles on legal developments and best practices in business, and is sent to over 2,000 subscribers.
Jim chairs the NH High Tech Council's Human Resources Exchange as well as serving on the board of the Manchester Area Human Resources Association and serving as the Legislative Affairs chair for the HR State Council of NH.
It was Jim's oversight and direction that grew Sheehan Phinney's employment group to more than 12 members, and earned recognition as the top labor and employment practice in the state.