2015 Business Excellence Winner: Brent Kiley of Bonfiglio Kiley & Associates – Ameriprise Financial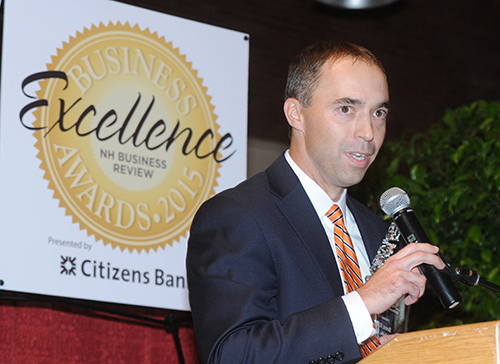 Nominated by: Nikole Trost of Bonfiglio, Kiley & Associates – Ameriprise Financial
The rapid growth of Brent and Bob Bonfiglio's private wealth advisory practice is in part a result of their respect in the greater Manchester community.
The practice has become a "home" in the region for retiring advisors who want to leave their clients in good hands. And no wonder, as Brent and Bob let the motto "what's best for the client" lead their decisions.
Brent has received high marks and much recognition for his work. He has a "Client Satisfaction Score" of 100 percent – to put that in context, the average among all Ameriprise advisors is 92 percent. And he reached "Private Wealth Advisor" status in 2015, his goal for years. That means out of all Ameriprise financial advisors, Brent ranks among the top 10 percent.
His nominator writes of Brent's constant desire to do better in all aspects of his life, and to encourage his employees to do the same.
That explains how Tuesday morning group workouts were born. Brent "lured" employees into trying one free session with a personal trained, but that has turned into six months of trainings, all covered by Brent, who is thrilled to see double digit turn out most weeks.
When Brent participated in the Leadership Greater Manchester program in 2014, he saw such value that he proposed the company offer the opportunity to an employee each year, covering the application fee and day away from the office each month.
Brent also sets an example for all employees by donating to charities on his clients' behalf, in lieu of holiday gifts. For several years, the team has participated in a day of service, volunteering each November at the NH Food Bank. And this year, the company added on another day of service in June, volunteering at the NH Food Bank's production garden.
Brent truly wants to make a lasting impact on his community. It sounds like he already has.