2014 Business Excellence Winner: Sandra Cleary of CruCon Cruise Outlet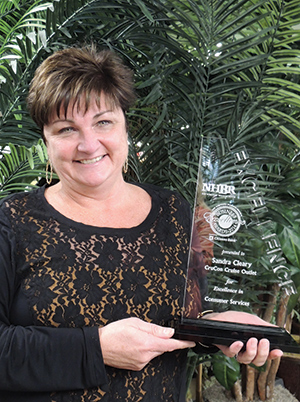 Nominated by: Lorrie Determann of LTD Company
CruCon Cruise Outlet sends over 90,000 people a year to destinations like Alaska, Europe, Mexico, the Caribbean and Bermuda. But the journey she's taken may be even more memorable.
At CruCon, Sandy and her team are well known in the travel industry as a world leader in cruise travel.
They were honored this year by Vacation.com's highest honor, the U.S. Agency Chairman's Award, which they've received for four straight years. CruCon has also been awarded the prestigious Chairman's Award from Celebrity and Royal Caribbean International, topping over 40,000 other agencies in North America.
And Travelzoo's 13 million subscribers voted CruCon "Best Agency for Cruise Deals" for five straight years.
CruCon is a prime example of Sandy's hard work, considering when it formed in 1995, it was solely Sandy working out of her mother's basement.
Sandy had been working as a space physicist in California at an aerospace firm, but quit the job at the suggestion of her brother, who told her she could use her creativity to build a business that sparked her passion.
When the business expanded, she sought cheap rent in East Boston, later moving to Moultonborough in 2004.
With fond memories of summers spent in the Lakes Region, Sandy is a major supporter of the community, donating over $100,000 to various nonprofits.
This was the second year CruCon helped organize the Lindsey Frank Golf Tournament, which benefits David's House, a charity that provides homes away from home for families of children receiving treatment at the Children's Hospital at Dartmouth Hitchcock Medical Center.
Recently, Sandy completed a new 30,000-square-foot headquarters with an auditorium for electronic presentations, an exercise room, a staff lounge and more. Since most clients book their trips online or over the phone, the new building is for the enjoyment of her 75 employees and preparing for expansion in the future.
Congratulations Sandy! I'm sure we'll all be giving you a call this winter.