2014 Business Excellence Winner: Maria Devlin of the American Red Cross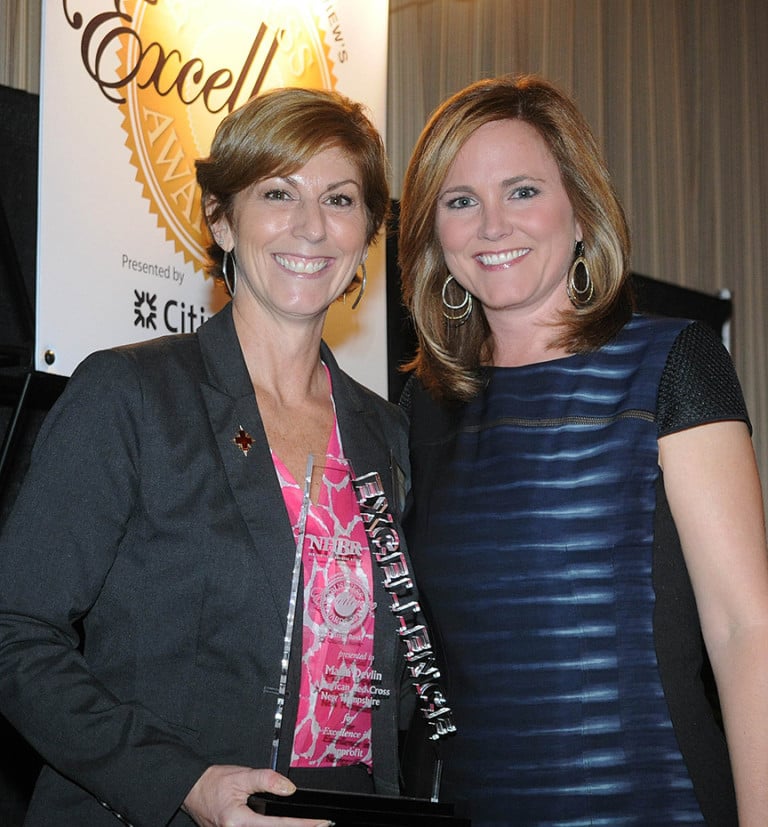 Nominated by: Fred Coolbroth, Jr. of Rath Young and Pignatelli PC
When you hear of Maria's 22 years of work for New Hampshire communities, it's a wonder she hasn't come in contact with everyone in the state.
Whenever there is someone in need, Maria and her team are there. As CEO of the American Red Cross in New Hampshire since 2008, she is responsible for the direction and coordination of all Red Cross activities with federal, state, municipal, corporate and community partners.
During the last fiscal year alone, Maria and her team responded to 206 disaster events and assisted 579 victims with shelter, food, clothing and emotional support at no cost.
They organized a corps of approximately 700 registered volunteers that are on call 24/7, 365 days a year.
They licensed 436 nursing assistants, and they provided over 7,000 rides to the elderly or disabled in Cheshire, Sullivan and Western Hillsborough Counties as part of the Rural Rides program.
Maria has devoted her studies and her life to making New Hampshire a better and safer place to live.
She holds two master's degrees, a Master of Science in Organizational Leadership from SNHU and a Master of Science in Human Services and Community Psychology from Springfield College. And she earned her undergraduate degree in Child and Family Development from the University of Maine.
Previously, Maria served in management positions at the Children's Alliance of NH, Southern New Hampshire University and Make-A-Wish Foundation of NH.
And on top of her work, she also serves as the Chair for the Manchester Advisory Board with Child and Family Services.
Most recently, Maria ran in the Boston Marathon on behalf of the Red Cross, helping raise over $11,000. Last year, she was invited to the International Disaster Management Exhibition in Istanbul, Turkey, where she spoke on trends in humanitarian aid.
At its Heroes Breakfast award ceremony, the Red Cross provides recognition to unsung local heroes. Well here's your turn Maria. Thank you for all of your work — and congratulations.