2013 Business Excellence Winner: Sharon Beaty, Mid-State Health Center
Their goal was to provide high-quality, primary health care and support services to people across central New Hampshire – regardless of their ability to pay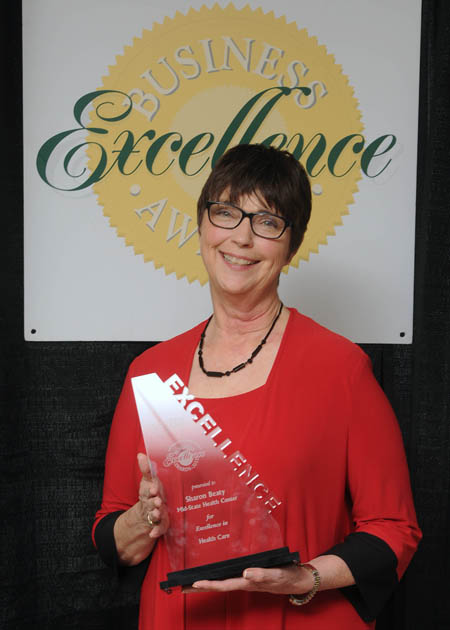 Access to affordable health care is a challenge for many people, but especially so for those who live in the more rural areas of the state.
Sharon Beaty saw this firsthand when she moved to rural, central New Hampshire. So she decided to do something about it.
She teamed up with a local physician, Dr. Frederick Kelsey, and together they launched an independent nonprofit called Mid-State Health Center, which now has locations in Plymouth and Bristol.
Their goal was to provide high-quality, primary health care and support services to people across central New Hampshire – regardless of their ability to pay.
Mid-State offers not just primary care, but internal, family and pediatric medicine, as well as clinical psychology.
While Mid-State is a nonprofit, it operates with a business mentality. It funds a charity care program through the operations of the successful primary care business model.
In its last fiscal year, Mid-State gave away more than $417,000 in charity care. In total, it has given away $3 million in charity health care to local citizens. Last year, Mid-State had 36,000 visits from 10,000 individual patients.
As an example of Sharon's creative thinking, she worked to finance the expansion of Mid-State's Plymouth headquarters using New Markets Tax Credits.
The expansion made the facility much more attractive to potential clinicians in an area where it can be difficult to recruit health care professionals.
The Plymouth facility has a Montessori School and offers an onsite daycare with reserved spots for staff members.
Since that project began, Mid-State has grown from 37 employees to 85 today.
Sharon also led the creation of the North Country Accountable Care Organization, a collaboration between four rural community health centers in the North Country.
The organization allows them to bring improved coordination of care and to stretch health care dollars further in the region.
As far as Sharon's accomplishments go, these are just the tip of the iceberg.
As one of our judges put it, Sharon is "clearly a giver and a visionary."
Nominated by: Wendy Lasch-Williams, Mid-State Health Center