2013 Business Excellence Winner: John Stewart, Bedford Martial Arts Academy
The academy has become a gathering place that provides a safe and fun place for kids to become productive, strong members of their communities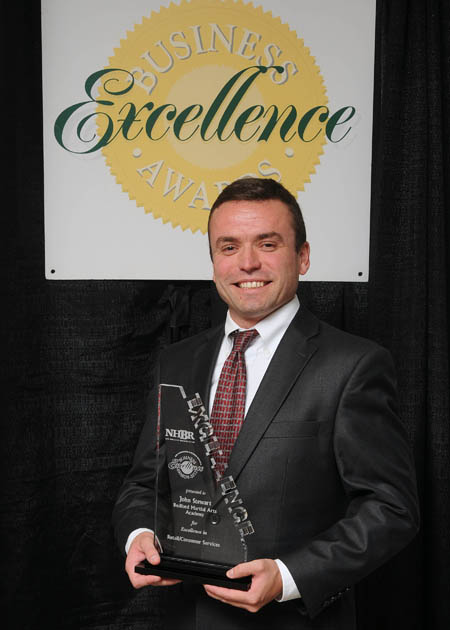 John Stewart has a vision for Bedford Martial Arts Academy that goes way beyond just teaching martial arts to kids.
The academy has become a gathering place that provides a safe and fun place for kids to become productive, strong members of their communities.
John, who worked as a New Hampshire police officer for six years, also worked as a diplomatic security officer with the U.S. State Department.
But he has been teaching martial arts since he was 12 and wanted to pass his knowledge on to more students.
So, in 2007, he took over a failing martial arts school that was saddled with debt.
While still working two jobs, he moved the school to Bedford and set to work turning it around.
By 2011, he was able to join Bedford Martial Arts Academy full time.
The academy has gone from having just one employee when he bought it to 15 today.
The school offers not just martial arts training, but afterschool programs, camps, anti-bullying programs, self-defense classes for women, and regular charity events.
It also offers an adaptive martial arts program for children with autism, ADD, Asperger's, or other special needs, teaching them focus, self-control and discipline.
The after-school program has grown from having just one SUV picking a few kids up afterschool to four, 15-passenger vans. The program is overseen by an after-school director, with three certified teachers and five other staff members who make sure kids do their homework and stay busy with fun games and activities.
Students are required to do community service before they can test for their black belt. But the academy encourages kids of all levels to act charitably.
The academy hosts an annual charity summer bash, which has raised funds to support cancer and Batten disease research.
The school also hosts a yearly back-to-school supply drive. This past year, they collected more than 8,000 school supplies for kids in the Manchester school system.
It also hosts a food drive for the New Hampshire Food Bank, a holiday party where presents are collected for local children in foster care, and a winter clothing drive.
As if that weren't enough, John also is a volunteer martial arts teacher to students at Easter Seals New Hampshire.
As one of our judges wrote, "this is an impressive application. Mr. Stewart resurrected this failing business with innovation, customer response and passion."