2013 Business Excellence Winner: Gail Kimball, Advanced Graphic Communication
Gail has donated hundreds of hours of work to programs that help to stimulate the local economy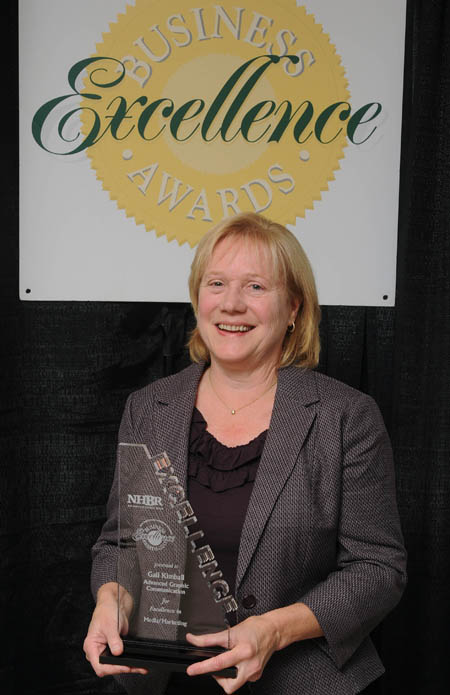 Some people are so connected to their hometowns that they almost come to embody them.
That's the case with Gail Kimball, a Littleton native who has donated countless hours of her time to help promote and revitalize the small Northern New Hampshire town.
After she graduated from Littleton High School, Gail left the North Country to study art and design, but in 1993, she felt the lure of Littleton pulling her back.
With her extensive design knowledge, Gail returned to the town to build up her full-service graphic design business, Advanced Graphic Communication.
In the 20 years since, the company has successfully weathered the ups and downs of the economy in a very competitive field.
But on top of all her work for paid clients, Gail has donated hundreds of hours of work to programs that help to stimulate the local economy.
Gail was a major catalyst behind Littleton's Main Street Program. As a member of the promotion committee, Gail designed the award-winning "Welcome to Littleton" signs that are seen all around town.
She also designed the pamphlet for a walking tour of the town that gives the history of 25 historic buildings around town, and two Christmas coupon books that promoted local businesses.
Her work earned her the distinction of being named Board Member of the Year for her dedication to the Main Street revitalization program.
She has also provided discounted services to organizations like the Littleton Farmer's Market, Jean's Playhouse, and the North Country Health Consortium.
Gail treats her six employees very well, hosting team-building events and celebrating holidays and birthdays with them.
Gail is also on the board of the Littleton Community Center Board of Directors, where she is leading a major fundraising effort.
And she's been on the advisory board of the graphic design program at Manchester Community College for 18 years.
As one of her employees wrote, "with Gail at the helm, the company has sailed into its third decade, and continues to deliver design and marketing at a 'big city' level, without every departing from its 'small town' ideals."
Nominated by: Jere Eames, Eames Partnership, Littleton