2013 Business Excellence Winner: Arthur O. "Buddy" Phaneuf, Phaneuf Funeral Homes & Crematorium
While Buddy has kept the company's traditional values of generosity and honesty alive, he has also been at the forefront of the death care industry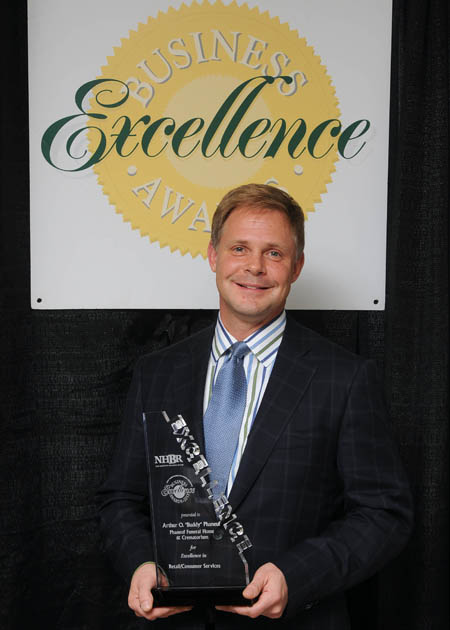 In an industry that is rapidly becoming dominated by large corporate conglomerates, Phaneuf Funeral Homes and Crematorium has resisted the temptation to sell the family-owned business that has been serving this region for four generations.
Arthur "Buddy" Phaneuf is a fourth-generation funeral director who has run his family's business since 1989.
He has grown the company into the largest family-owned and -operated funeral and cremation provider in New England.
While Buddy has kept the company's traditional values of generosity and honesty alive, he has also been at the forefront of the death care industry, adopting technologies and services that better serve his customers during difficult times.
In fact, Phaneuf has many firsts to its name.
It was the first funeral provider in the state to have a website and post prices online. It was one of the first to install a crematorium, and established cremation standards before the state governed them.
Buddy created the country's first cremation website for online arrangements and ecommerce.
And, Phaneuf Funeral Homes was the first New Hampshire member of the Green Burial Council.
In addition to running the funeral homes, Buddy also founded and runs three other businesses: the Cremation Society of New Hampshire, the Internet Cremation Society, and an obituary website.
In response to the increasing diversity of New Hampshire's cities, Phaneuf funeral directors are knowledgeable about the customs and ceremonies of many different ethnicities and religions. The company also donates thousands in services each year to people who don't have the ability to pay for services, and provides services to fallen soldiers and the homeless at little to no cost.
Buddy has been a personal and corporate backer of New Hampshire Catholic Charities for 17 years, and is a longtime supporter of Glendi, the Palace Theatre, and the Manchester Historic Society.
As a judge wrote, Buddy is "clearly a dedicated business owner who serves the community with grace and kindness."
Nominated by: Beth Innarelli, m5 Marketing Communications