2 guilty of forced labor get 5 years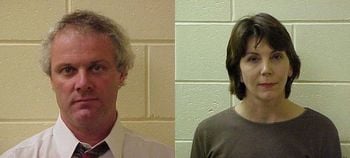 CONCORD – A Litchfield couple convicted under federal forced-labor statutes was sentenced Friday to more than five years in prison.
Kate O'Dell and Timothy Bradley were both found of guilty in August of 18 counts related to forced labor and wire fraud.
Bradley and O'Dell received two sentences each, 60-month and 70-month sentences that will run concurrently. Their lawyers' motions for them to be released on bail while appeals are filed were denied and they were both taken into custody Friday.
The couple also has to pay restitution equaling $13,052 to four of the workers they hired and Bradley has to pay a $12,500 fine.
The charges resulted from a program in which O'Dell and Bradley on two occasions brought a total of five workers from Jamaica to work for Bradley's Tree Service and live on the couple's property.
The charges included document servitude, wire fraud, trafficking in forced labor and forced labor.
It was the second time in the country that a trial took place under federal forced-labor statutes, which were passed in 2000.
Four of the workers testified at the trial, saying the couple told them they would make $11-$15 an hour. Once they arrived, the workers said, they were paid $8 an hour.
Some of the men also testified that the couple took away their passports and airplane tickets, preventing them from leaving, and that they were forced to live in crude conditions in a camper and shed on the couple's property.
Two of the workers also testified that they were assaulted by O'Dell and Bradley and that the couple's dog bit one of them and chased them.
The defense argued that the men were told that they would make $8 an hour and that some of the issues stemmed from conflicting job-site expectations, noting that at least one of the Jamaicans had never worked a job on hourly pay before.
"It's a sad day. I feel bad for her," said Andrew Cotrupi, O'Dell's attorney.
"I'd be surprised if anyone on that jury thought she should be in federal prison for six years."
Her mother is nothing like a slave trader, Isis Latham said.
"(She) made a stupid judgment call," Latham said. "You don't get sent to prison for a stupid judgment call."
Latham described O'Dell and Bradley as getting caught in a loophole, saying she had to speak to their lawyers to understand what happened in court.
"They're innocent of the crime they were convicted of," she said.
Prosecutors, however, praised the sentences that Assistant U.S. Attorney Mark Zuckerman described as appropriate and reflecting the gravity of the crimes committed.
"It is difficult to even begin to capture the gravity and moral depravity of these offenses," said R. Alexander Acosta, assistant attorney general for the civil rights division in a prepared statement.
"Luring foreigners to our shores with false promises, impressing them into labor and withholding even the most basic services is nothing short of modern-day slavery."
The case began with a report to Litchfield police about Jamaican men being held against their will. Two of the workers testified that after police interviewed them on Sept. 20, 2001, the couple interrogated them about who called the police and also assaulted them.
The men said they ran to a neighbor's house, where someone they knew lived, and that person took them to the police station.
Two of the former workers were in court Friday, but declined to speak to the press.
The forced-labor statutes were broadened several years ago to give protection to seasonal service workers. In the last three years, federal prosecutors have convicted 111 human traffickers in 36 cases, including 79 people convicted of sex trafficking, according to the U.S. attorney's office.
Anne Lundregan can be reached at 594-6449 or lundregana@telegraph-nh.com.