$1.1 million solar project completed in Andover
ReVision Energy, Proctor Academy project fueled by power purchase agreements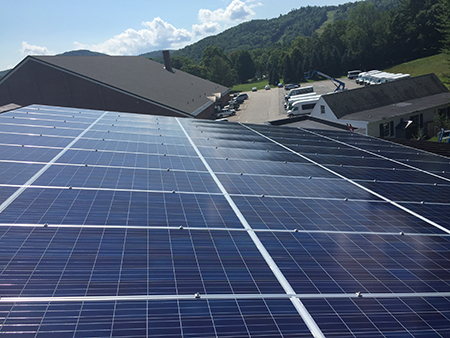 A partnership between ReVision Energy and Proctor Academy has resulted in the installation of six solar arrays on the Andover, NH, campus – one of the largest solar projects of its kind at a New England school.
The 334-kilowatt project is valued at $1.1 million.
All of the projects were installed by ReVision at no upfront cost to Proctor through a series of power purchase agreements, or PPAs, said Jack Ruderman, ReVision's director of community initiatives
Under a PPA, schools, nonprofits and municipalities can buy "green" solar power from an investor at a lower cost than "brown" electricity from the utility grid. Proctor has a future option to purchase the arrays at a substantial discount.
ReVision owns the rooftop array at the school's Wilkins Meeting House, the first installation which was completed in 2012. IGS Energy owns the other five installations, which were completed this year.
The first five projects are rooftop mounts, while the most recent project is a 107-kilowatt ground mount at the Proctor Ski Area. The 352-panel array spans 300 feet across and will power snowmaking operations as well as the general campus.
The six arrays will generate approximately 389,508 kilowatt-hours of solar power each year and will offset approximately 25 percent of the school's electric load, the company said.
Ruderman said the company is seeking other interested organizations that want to form future partnerships.
"The PPA is a powerful and innovative tool that allows towns, schools and non-profit organizations to install state-of-the-art renewable energy systems at no upfront cost that will generate clean energy and produce cost savings for decades and decades," he said.