Youth work laws vex some employers
Since 2016, 226 businesses cited for 7,781 violations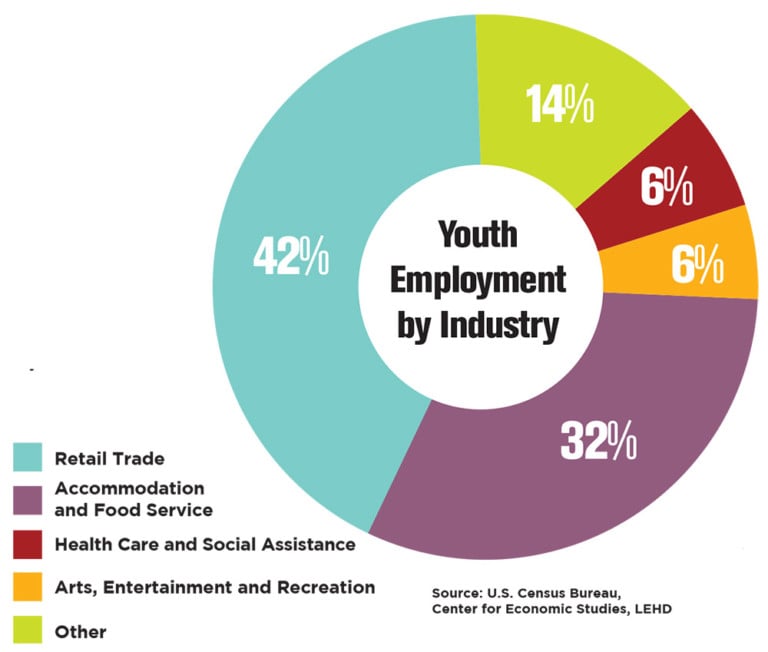 It was 1:29 on a humid Monday morning in August 2016 when then 16-year-old Shelby Brenton closed up the Merrimack Burger King after a 13-hour and 15-minute shift.
Despite the long day, she said, "I was OK with the hours that were giving me," because unlike other kids her age — who had worked similar hours — Brenton had left high school to take care of her disabled mother and pay her way through cosmetology school.
It didn't bother her peers either, she said, even though they were still going to school.
"Most of the kids who worked the illegal hours wanted the hours and the money," Brenton, now 18, told NH Business Review via Facebook. "Luckily our GM didn't care unless the parents did."
(Although Brenton's hours were listed as a violation, they would be legal if she were not an enrolled student at the time.)
But the state Department of Labor did care. It found that Northeast Foods LLC, owner of a 24-store Burger King franchise, committed 382 violations of youth employment laws — allowing kids to work longer hours than they should, sometimes just by a few minutes, but many other times by hours. One teenager's shift was nearly 18 hours long and another kid was working at 4:30 a.m.
The DOL initially fined the franchise $191,000, though eventually the fine was reduced to $58,000.
Attempts to reach the franchise owner were not successful.
While Northeast Foods' fine may have been the largest levied in New Hampshire over the last few years, it is hardly alone.
Senate Bill 318
Between January 2016 and April 2018, the state has found that some 226 companies committed 7,781 violations of youth employment laws, with over 6,313 of them relating to young people working too many hours. (The department ended up fining and collecting $356,000 for youth violations during fiscal years 2016 and 2017, according to its biennial report.)
Fast-food firms led the way among violators, but the department also found violations at more traditional restaurants, farms, resorts, retail, construction firms, manufacturers, municipalities and even schools.
Yet, as NH Business Review goes to press, the Legislature is on the brink of passing a bill that would allow companies to schedule kids to work longer hours and make it a little harder for the state to conduct labor inspections.
Indeed, a couple of bills sponsored this session would have eliminated hourly limits for 16- or 17-year-olds entirely as part of a larger bill to lessen the role of the state DOL. (Hours for younger teens are set by federal law.)
Those bills didn't get very far, but Senate Bill 318, as passed by the Senate, would increase the number of hours that older students could work during a full vacation week from 48 to 56 and increase the 30-hour limit on work hours during a school week to 40.25 for a four-day school week and 48 in school weeks with only one, two or three days.
At deadline, the House will consider an amendment that would limit the changes to partial weeks, as well some other minor changes in the law.
The bill has the strong backing of the NH Lodging and Restaurant Association, which asked that the department give employers greater flexibility.
"We would have preferred the Senate version, but the amendment still provides more flexibility than the current law," said Henry Veilleux, lobbyist for the NHLRA.
'It's not necessary'
Either way, the bill wouldn't affect some of the daily night- and day-shift limits, which account for the vast majority of the hourly violations.
"That's the biggest restriction we come across," said Jay Bolduc, general manager of the T-Bones restaurant in Laconia and a vice chair of the NHLRA. "It's getting them out before 8:30 or 9 o'clock, particularly during summer hours."
The NH Grocers Association says its members could really benefit from teens working more hours during such holidays as Thanksgiving.
"If you can expand the holidays, that's when we really get busy," said Michael Violette, CEO of Associated Grocers of New England, which operates several independent supermarkets in the state. Still, he wasn't sure a simple law change would help that much.
"It's hard to get them to want to work 40 hours," he said.
The AFL-CIO, which opposes SB 318, was a bit mollified by the amendment but still urged that the bill be sent to study, arguing that the partial workweek rule would be confusing to employers that hire kids from a different school district.
"Our biggest complaint is that it's not necessary. It really doesn't change anything, and therefore is not a real advantage to employers," said Judy Stadtman, NH AFL-CIO campaign coordinator.
The push is driven by employers seeking to loosen youth employment laws in response to an acute labor shortage and at a time when it's also harder to hire immigrant workers because of increased federal restrictions.
Teenage employment has been on the decline for decades, as students spend more time in school and at activities that might boost their chances to getting into college, with the intention of earning more money than they ever could after school and on the weekends.
But in recent years, youth employment has increased in New Hampshire. Nearly 23,000 teenagers (ages 14-19) worked last year, according to census data, 23 percent more than 2011. Three-quarters of them are working in the hospitality and retail industries, and at some of those employers — many of whom have been hit with violations — teens account for a significant part of the workforce.
For example, there's JPM Donuts Inc., owner of nine Dunkin' Donuts franchises. Slightly more than 40 percent of the company's 163 workers in 2017 were minors —though they may not have worked as many hours as older workers no longer in school.
"It helps get them started and gets them off the street," said John Motta of JPM, but when pressed, agreed that the company got something out of it too. With full employment, "we have to rely on teenagers. Of course we do."
When the state DOL inspected the company, it found 339 labor violations, with all but one related to hours. It initially whacked the company with a $508,500 fine, the largest proposed over the last few years, but it subsequently reduced it to $47,900.
Motta, who testified in favor of loosening youth employment laws, said that most of the violations were "minor." He said he wished that the department relied on the "spirit rather than the letter of the law."
'Knowledge transfer'
It is true that many of the violations were a matter of minutes rather than hours. One teenager, for instance, clocked in to a Merrimack store a minute too early — 5:59, thus classifying the shift as "night work," meaning that the subsequent nine-hour, one-minute shift was illegal by more than an hour. If it was a day shift, the student could have worked 10 hours and 15 minutes. But there was also a student who worked a 17-hour shift.
Part of the problem is that these are kids, "and no matter how many times you tell them to go home at 10 p.m., they are going to go home at 10:30 p.m., or they are eager and get there five minutes early, and boom, you're hit with a violation or they might stay a little later counting tips," he said.
Motta also said he wasn't aware of night work rules, saying what was OK with one inspector was not with the next.
The problem could be turnover at the other end, said Rudy Ogden, deputy labor commissioner.
"You could explain everything to someone during the first inspection and then two months later that person leaves, and you might not have a good knowledge transfer," Ogden said.
He said that the department really couldn't give a grace period when it comes to hours. Lawmakers had considered that in the past, but rejected it, because the line had to be drawn somewhere, "otherwise you'd have to have a grace period for the grace period."
But Ogden emphasized, and Motta and several other employers agreed, that the department was willing to "work with" companies after an initial assessment. Generally, the department cuts a fine to a tenth of the size of its initially proposed size, though the percentage could vary depending on such factors as the company's willingness to improve, extenuating circumstances and its ability to pay.
Most violations
Bill Gillert, one of the owners of Hillsdale, N.Y.-based Great Bons Inc., which operates 11 Five Guy franchises in the state, also wouldn't mind a little leeway when it comes to the DOL, which cited the 10 stores that were open last year with 181 violations, proposing a fine of $18,100 but then reducing it to $2,000.
Sixty-two of the store's 209 employees were minors.
"In the heat of the moment, people forget that this person is 16, not 18, and schedule him for a longer shift," Gillert said.
But, he added, "We need to do a better job of keeping track of them. I think there should be more discretion for the parents, having them sign to allow them to work more hours. We keep hearing from the kids, 'It's fine, it's fine,' and then we get the call from the parent, 'What are you doing to my kid making him work all these hours?'"
Brenton, the aforementioned worker at Burger King, wouldn't mind a little more leeway when it comes to youth employment laws, now that she is a manager at a McDonald's in Concord.
"They are very big on sticking to the labor laws," she said of her employer. "It makes things harder on my end, scheduling for a lot of high schoolers."
But would she have someone working at 1:30 a.m., if she could?
"As a manager I don't think I would schedule someone that late," she said.
The DOL did not cite the McDonald's where Brenton works for any violation. But that doesn't mean Burger King's rival is immune. The DOL cited JBK Management, which runs three McDonald's in Nashua and Merrimack, with 767 youth violations — more than any other company — last year, and initially assessed a fine of $383,500, later reduced to $37,750.
Among the violations, JBK Management had a 15-year-old working six hours after school (the legal limit is three), an older teen working at 3 a.m., another working a 17-hour shift and another working 46 hours during a week that should have been limited to 30 hours.
A message left at the company's Massachusetts headquarters was not returned by deadline.