Workplace safety with MEMIC is no accident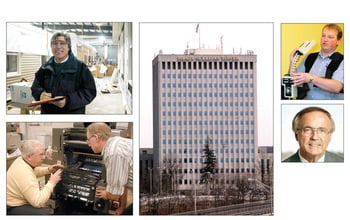 Coincidences happen. Happy coincidences happen when you intelligently plan and work for them, says Michael Bourque, vice president of marketing and communications for MEMIC, insuring employers in Maine, New Hampshire and throughout the Northeast against workers' compensation claims.
"Our company was really formed on the idea that preventing injuries was the best way to help people lower costs for insurance," Bourque says of the company's beginnings in Maine. "In our first seven years or so, we helped reduce injuries by about 30 percent. And what do you know? Costs came down about 30 percent as well."
The company was born of Maine's workers' compensation problems of the late 1980s and early 1990s, says Bourque, recalling MEMIC's creation in 1993 to deal with what was then the highest rate of worker injury —and workers' comp costs — anywhere in the country.
"There were a lot of old line businesses, a lot of old manufacturing. There was not a culture that encouraged and promoted safety," says Bourque.
The company's success led management to look at the prospects for bringing MEMIC's expertise to employers in other states as well. Neighboring New Hampshire seemed like the natural place to go. Since 2000, about 25 MEMIC insurance personnel have been at work at 1750 Elm St. in Manchester, in the former American Insurance Company building just north of the Amoskeag Bridge. The company has already become the third largest underwriter of workers' compensation insurance in the Granite State. MEMIC has since opened offices in Glastonbury, Conn., and Albany, N.Y., but New Hampshire remains a focus for the company.
"We've found it a great place to make the kind of customer relationships that we value," says Bourque, summing up the company's experience in New Hampshire. "Culturally, we found it a good climate to do business in and a competitive marketplace." The savings that employers have enjoyed on their premiums is no accident, he is pleased to note.
"We've found our niche as a company which puts so much energy and focus on safety as we do" he says. "We essentially hire our safety people from the industries we serve. They're not born-and-bred insurance people. The people who advise manufacturing companies have spent time on the shop floor. The health-care people are nurses or nursing directors. They're people who understand productivity and how work gets done and therefore they understand how to implement good workplace safety programs."
Terms like "prevention" and "safety first" may sound like cliches, but cliches, like coincidences, happen when you work at them. "I think some others have done it," Bourque says of the emphasis on prevention. "We've done it in a more pronounced way than anybody else. It's not a halfway thing with us. We need to find the right partners. We're not going to be the insurer for everybody. Our clients have to be committed to doing the things we ask of them. We'll work right alongside them and when they see the benefits, they're glad to have found us."