Woman swept away by river had love for animals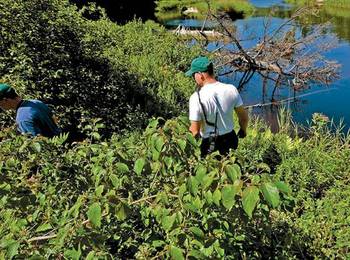 MERRIMACK – Michele Houghton and Susan Bonitatibus found lasting friendship through their shared passion for animals.
The two first met 13 years ago when Houghton, of New Boston, was teaching dog obedience classes in Goffstown. At the time, Bonitatibus was an assistant there.
"She was a true dog person and a good friend," Houghton said.
Indeed, neighbors nearest to Bonitatibus' most recent home near Wildcat Falls in Merrimack often saw her walking with an 11-year-old whippet named Shazam.
Shazam is now in Houghton's care, as Bonitatibus is believed to have drowned in the falls Tuesday afternoon. She went to cool off with her friend and housemate, Dennis Magnan, but got caught in the swift current and never resurfaced.
Emergency officials searched for her until Tuesday at dusk, and Fish and Game officers combed the Souhegan River's banks Wednesday, from the Merrimack Village Dam upstream to the falls.
On Thursday, Lt. John Whitmore said he, Bonitatibus' sister and brother-in-law looked from the banks again, this time from Merrill's Marauders Bridge up to the falls. They were unsuccessful.
The department can't continue search efforts in the water again until levels drop another 3 or 4 feet, Whitmore said. Until then, Fish and Game folks will be out again today and perhaps once again during the weekend.
"If we don't get too much rain, we're hopeful that as (the water level) drops, we can bring this to a conclusion," Whitmore said.
Jean MacKenzie, of Northwood, Bonitatibus' friend of 20 years, said Thursday she was "basically still in shock" about the incident.
"I was so surprised at what happened because she was a strong woman," MacKenzie said, adding that just a couple of weeks ago, Bonitatibus rode 30 or 40 miles on her bicycle. "I really was truly shocked and saddened. She'll be missed."
Houghton, who has a kennel and runs Greyhound Placement Service, said Bonitatibus volunteered for her organization and often oversaw the kennel if Houghton was away.
MacKenzie, herself a dog breeder, said Bonitatibus handled whippets at dog shows and was taking one of MacKenzie's dogs to agility classes.
"One of the things Sue loved and did best is take all the puppies and socialize them," MacKenzie said. "She'd bring them to meet people, to Petco, things like that. (The dogs) enjoyed her quite a bit. They were a main part of her life."
The friends traveled out of state together to dog shows and different events.
"She really enjoyed the camaraderie of all the people that she'd meet at the shows," MacKenzie said. "She was fun to be with."
Outside of dogs, Bonitatibus was athletic, her friends said.
"She was really a very active person," Houghton said. "She ran. She loved to bike. She loved to hike with her dog."
MacKenzie said Bonitatibus could be counted on in a pinch, and liked to laugh. She'd often send e-mails with a "sharp, sort of biting sense of humor."
Houghton said Bonitatibus worked at several different places while she knew her. Her most recent job was at Tractor Supply Co. in Merrimack, where Bonitatibus was described this week by her manager, Mark Fegley, as "always upbeat" and "a true pleasure" to have around.
Bonitatibus lived in Merrimack for less than a year with Magnan at his home on 12 Edward Lane. Houghton said she rented an apartment there.
"It was perfect for her," Houghton said. "She was happy there."